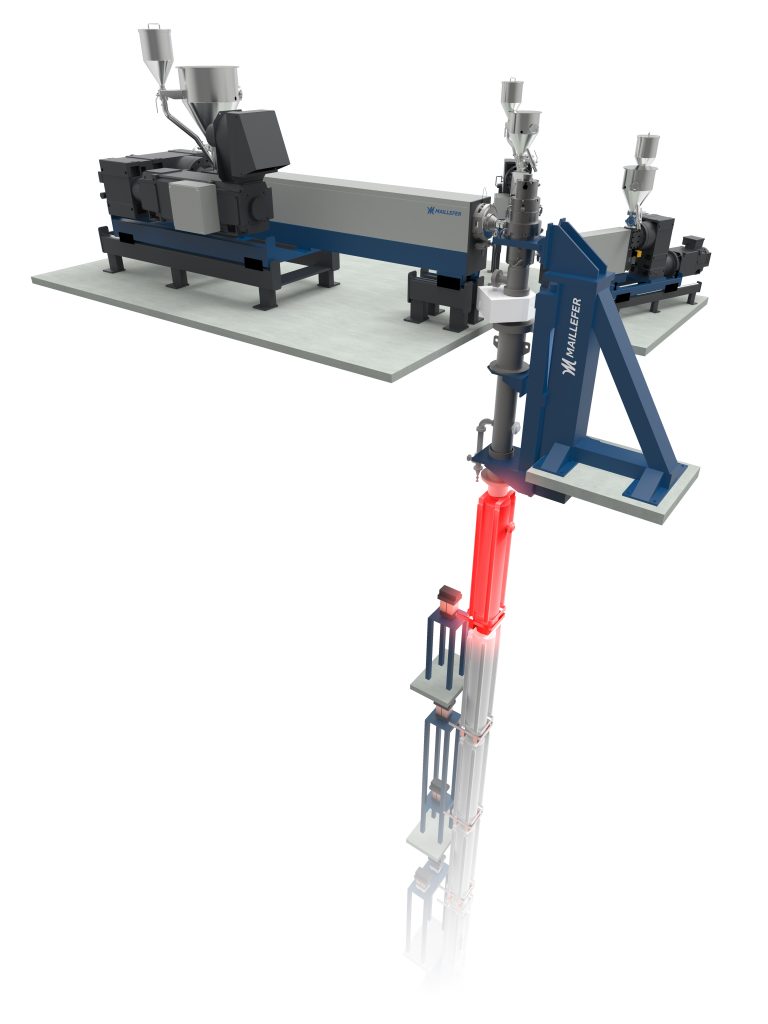 Southwire Company LLC, a leading manufacturer of high-voltage underground cable systems, aims to boost cable production and quality with the Maillefer Round Premium Package. Slated for installation later this year as an upgrade to an existing line, Southwire will be the first in North America to employ this capability. The company will be able to produce rounder cables as large as 6 inches (152mm) in diameter that weigh as much as 25 pounds per foot at production speeds faster than previous technology has allowed. Southwire will also be able to reduce material usage, which is significant due to the many plastic layers extruded over the conductor for safety and durability.
"We have a strong, long-standing association with Maillefer, a Davis-Standard company. Davis-Standard has augmented this relationship by providing local support for parts, service and purchasing, further improving the process," said Chris McGill, Plant Manager at Southwire. "This upgrade to our vertical CV line not only supports better production, but it also benefits cable installers because rounder cables are easier to connect for longer lengths in the field."
Southwire's high-voltage power cable is engineered to run underground for power transmission and distribution from generation points to substations over long distances. Due to the trend away from bare conductors and overhead transmission lines, demand for this type of cable has increased dramatically. With Southwire's international customer base, the upgrade will enable them to more effectively address current and future market growth. In addition to equipment, Maillefer will provide installation support, commissioning and training.
"We are excited to have a North American customer install and use this technology," said John Zachow, Vice President of Davis-Standard Wire and Cable Systems. "This is going to differentiate their product while improving all aspects of production for this type of cable."
For more information about Southwire, visit www.southwire.com. For more information about Davis-Standard's wire and cable capabilities, visit www.davis-standard.com/wireandcable/. For more information about Maillefer, visit www.maillefer.net.
Photo Caption: Round Value Package Premium – technology designed for VCV lines to improve cable core roundness and simultaneously increase the curing capacity of the line
Southwire Company, LLC is a leader in technology and innovation and an emerging influence in the industrial electrical space, Southwire Company, LLC is one of North America's largest wire and cable producers. Southwire and its subsidiaries manufacture building wire and cable, metal-clad cable, utility products, portable and electronic cord products, OEM wire products and engineered products. In addition, Southwire supplies assembled products, contractor equipment and hand tools. For more on Southwire's products, its community involvement and its vision of sustainability, visit southwiresustainability.com.