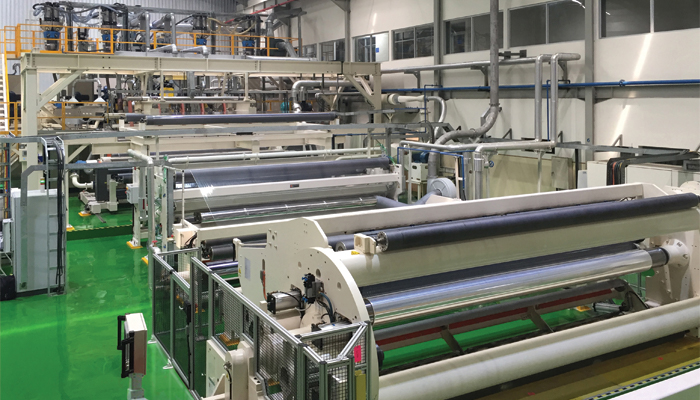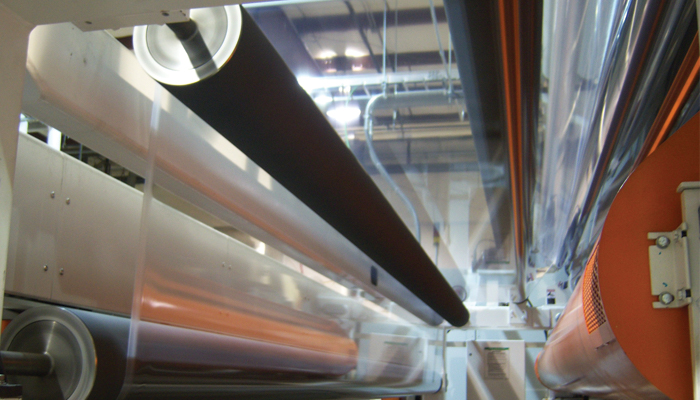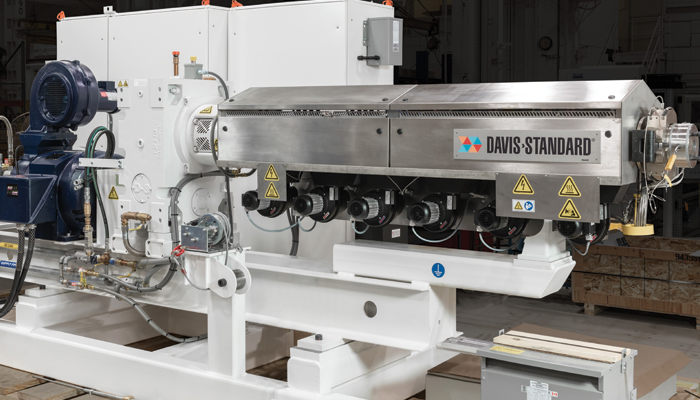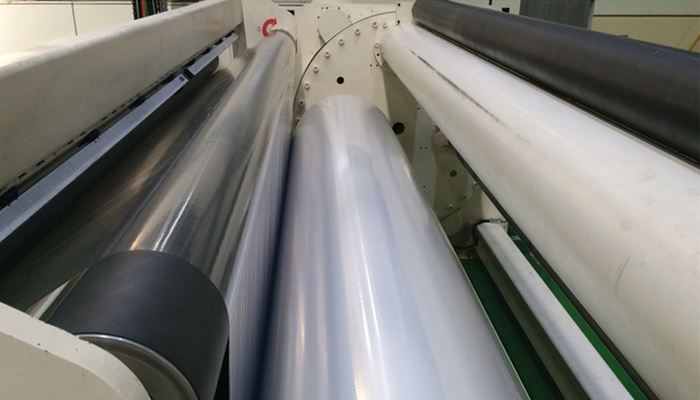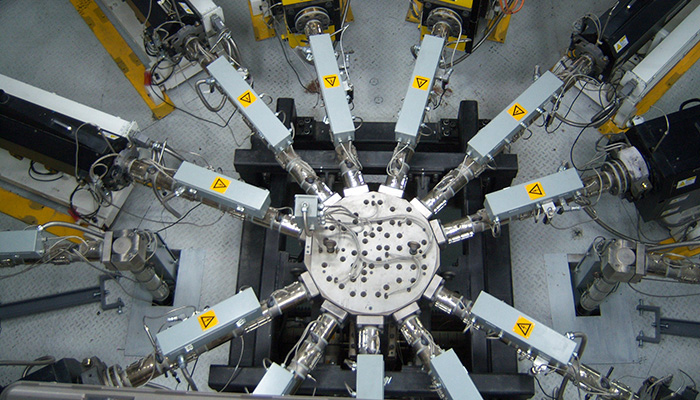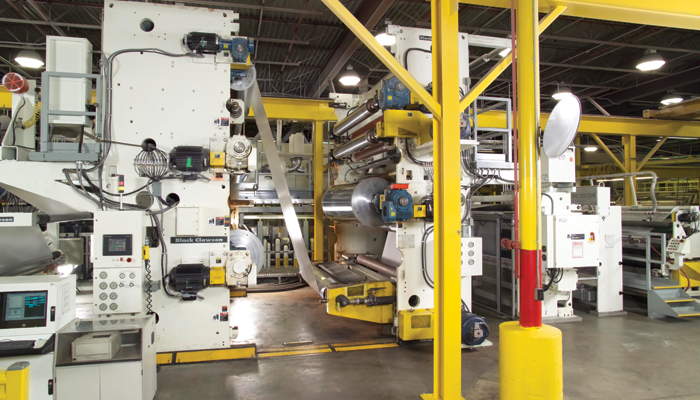 Protection, Packaging, Hygiene Films – Leading Technology for Your Cast Film Needs
We are an industry leader in cast film technology for applications in food packaging, personal care markets, stretch and cling films. Our knowledge of multi-layer cast film structures and MDO (machine direction orientation) coupled with innovative dies and winders, high-efficiency cooling rolls and superior control technology enables us to support customers worldwide.
Our reliable extruders and cast film extrusion equipment add value by consistently reducing scrap and improving processing rates. Cast films and cast embossed films processed on Davis-Standard cast film systems are known for high tensile strength and excellent barrier properties. The supply of barrier cast film lines and CPP film lines are among our areas of expertise.

We support several extruder configurations for hand and machine wrap applications. Co-extrusion systems are available to match line sizes with respect to desired layer percentages, film thicknesses and operating line speeds. We have capabilities for producing coextruded films from three to more than 30 layers (microlayers). The production of five layers using four extruders is the most common. Film forming is typically by vacuum box on a large diameter chill roll to control pre-stretch film properties. Winding systems feature fully automatic roll and core handling systems.
Line sizes are available for net finished widths as listed below with the 120-inch/3-meter, 6-up line being the most popular and flexible.
80 inches / 2 meters - 4 rolls up
100 inches/ 2.5 meters - 5 rolls up
120 inches / 3 meters - 6 rolls up
160 inches / 4 meters - 8 rolls up
180 inches / 4.5 meters - 9 rolls up
200 inches / 5 meters - 10 rolls up
Typically, all lines are geared in to run at speeds up to 2300 fpm/700 mpm. However, actual line speeds may be limited by resin formulation, resin quality, line size or winding system.
NEW TO THE INDUSTRY! The optimized dsX s-tretch™ pre-stretch cast film extrusion line is the first in-line pre-stretch system enabling customers to run thinner films at higher speeds. This line enables stretch film providers to produce consistent, high-quality pre-stretch film with greater efficiency. The two-meter wide line also has the advantage of a smaller footprint, yet allows for growth.
Typical Specifications
Net Widths  - 2 to 5 meters / 80 to 200 inches
Line Speeds - 457 to 700 mpm / 1500 to 2300 fpm
Winder - Hand and machine wrap
CPP: Stand-up Pouches, Candy Twist Wrap, Document Protection
Davis-Standard offers various configurations of extruders, filtration, feed-blocks and single or multi-manifold dies to produce CPP grades of lamination and metallisable cast films.
The resins are processed on Davis-Standard barrier screws, with or without melt pumps, depending on application. A unique tandem extruder configuration is available for the heavy core layer. Three and five-layer co-extrusion configurations are available using a conventional feed-block or multi-manifold die technology.
Typical Specifications
Net Widths - 2 to 5.3 meters / 6.5 to 17 feet
Thickness - 15 to 150 micron / .6 to 6 mil
Net Output - 500 to 2300 kg/hr / 1100 to 5000 lbs/hr
Speeds - 150 to 250 mpm / 492 to 820 fpm
Winding Diameter - 750 to 1200 mm / 29.5 to 47.2 inches
Barrier Films: Diapers, Disposible Garments and Liners, Shower Curtains and Tablecloths
This is a significant cast film area for Davis-Standard. Mono and coextruded systems are available as well as film-forming using the wet or dry embossing method as determined by product requirements. Repeatable embossing patterns and low-tension capabilities provide excellent winding performance. In-line slitting down to 3 inches (76mm) are possible with our advanced winding systems. Specialty cast film lines can incorporate coating or lamination of lightweight non-woven substrates. We often provide custom equipment or configurations to meet specific product requirements.
Core diameters of 3 to 6 inches (76 to 152.4mm) are possible using specially designed winding systems for all line widths. Typical line speeds of 600 to 1400 fpm (80 to 425 mpm) depending on extrusion package, formulation, film properties, embossing method and selected winding options.
End products include baby diapers, protective and masking films, disposable garments and bed sheets, pouches, PP photoprotective sleeves, shower curtains and tablecloths.
Typical Specifications
Widths - 2133 to 3353 mm / 84 to 132 inches
Line Speeds - 80 to 425 mpm / 600 to 1400 fpm
Winder - 1 meter in diameter / Up to 40 inches in diameter
Consumer and Medical Packaging
Davis-Standard offers configurations for producing flat cast barrier structures for consumer and medical packaging. Cast film systems are designed based on end-use requirements. Advantages include the processing of structures with singular or multiple layers and flexibility to incorporate enhanced barrier properties using nanotechnology. Our extruders and feedscrew designs offer excellent melt quality and thermal forming pressure stability.
Typical Specifications
Net Widths - 2 to 2.7 meters / 78.7 to 106.3 inches
Thickness - 50 to 300 micron / 2 to 12 mil
Net Output - 750 to 1600 kg/hr / 1653.5 to 3527.4 lbs/hr
Speeds - 15 to 150 mpm / 49.2 to 492.1 fpm
Winding Diameter - 750 to 1200 mm / 29.5 to 47.2 inches
Confectionary, bread, towel and tissue bags, single slice cheese film, pouch film
Within this category, our cast film lines encompass three to five extruders for producing a variety of packaging films up to seven layers. These packaging films are generally formed with a vacuum box, are corona treated have in-line slitting using bleed trims, and wound with low tension. These films also typically have a heat-seal side and a packaging-machine side where different slip levels are required.
Typical products are in the 1 to 4 mil (25 to 100 micron) range. Products include confectionary bags, bread bags, towel and tissue bags, single slice cheese film, pouch film, sugar bags, meat packaging, electrical component packaging, liquid packaging, vacuum packaging films and bag in a box film.
Typical Specifications
Widths - 2 to 4 meters / 80 to 160 inches
Speeds - 610 mpm / Up to 2000 fpm
Winder - 1 meter in diameter / Up to 40 inches in diameter
Davis-Standard offers a comprehensive line of laboratory and pilot-scale equipment designed to meet cast film process requirements for product development, polymer research, material testing, and validation. This includes extruders, process controls, feedscrew technology, and downstream equipment. Single or multi-layer laboratory systems are available as well as individual components. Sturdy and reliable construction simulates production performance and accuracy. Advantages include:
Casting stations with width range of 8"-34"
Casting roll diameter of 8" or 12"
Single drive for casting roll and haul-off or independent drive for precision tension control
Hand-wheel up/down adjustment of casting roll
Bolt-on nip station available for laminating
Multiple provisions for mounting of substrate unwinds
Options: air knife, edge pinners, high temperature, slitting station, corona treating, casting rolls with alternate finish, on-line thickness gauge, and gel inspection
Typical Specifications
Net Widths – 4"-22"
Line Speeds –10-100fpm
Thickness Range –.001"-.010"
Winding Diameter – 24"
Output – 5-50 lbs/hr
 As a world class equipment supplier and preferred business partner of EDI®, Davis-Standard is pleased to be the systems integrator for the new Prodigi™ die systems. Using this die technology, converting customers have the opportunity to boost converting performance at a significant cost savings. This patent-pending motorized lip actuator system allows for faster APC control achieving spec in 3-4 times faster than thermal bolt dies.  
Improve team safety

 

Greater energy savings

 

Optimal repeatability

 

Faster set-up speed

 

Gain additional stroke

 

Results validated