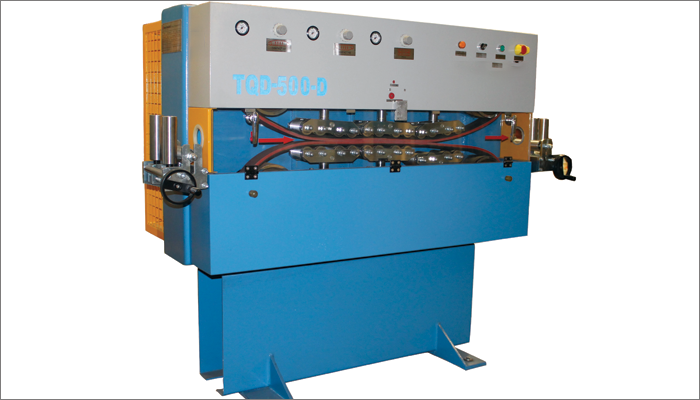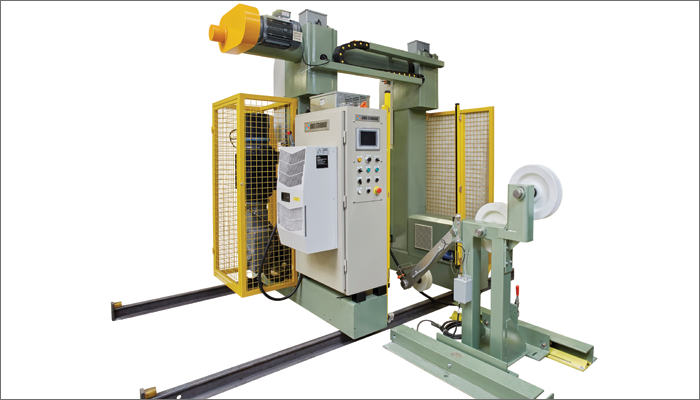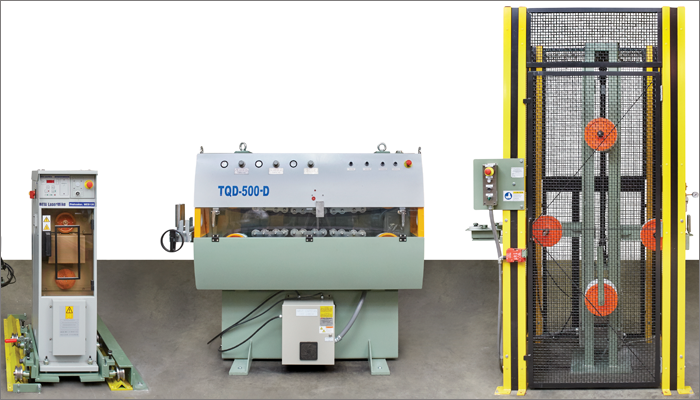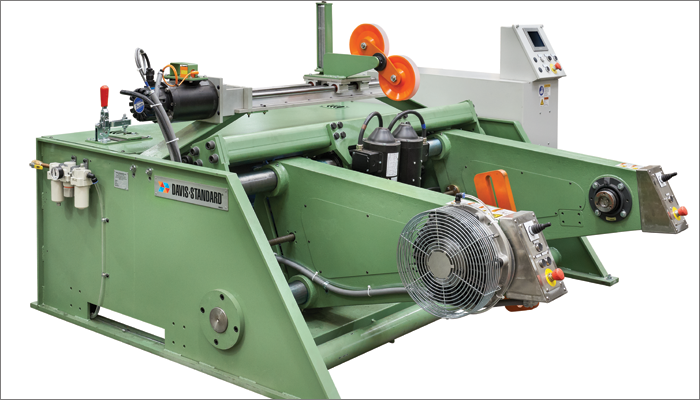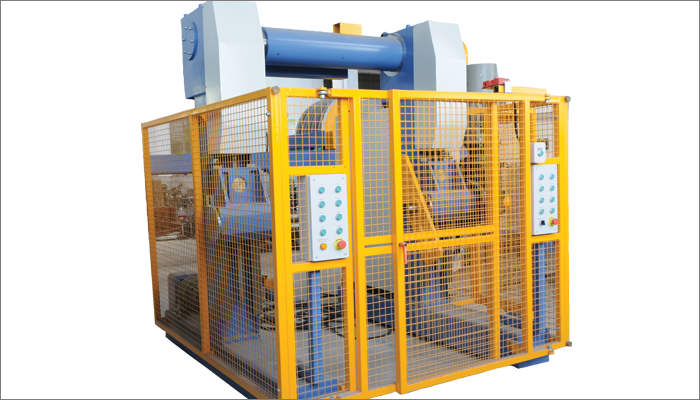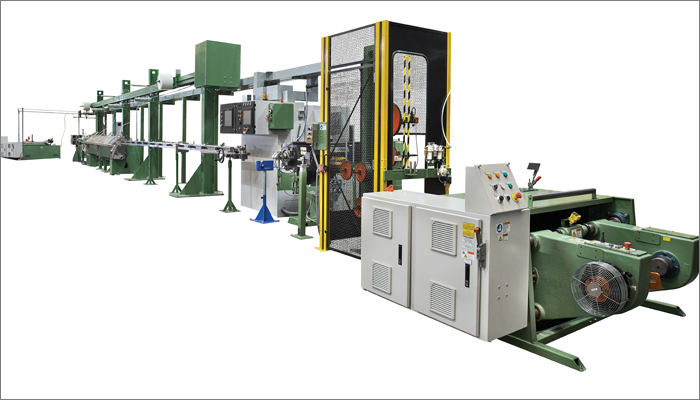 For more than 60 years, Davis-Standard has been at the forefront of wire and cable extrusion in the building and construction, automotive, power cable and communication wire industries.
Our extensive line of wire and cable extruders—along with payoffs and takeups, accumulators, cooling systems and capstans—enable us to offer one-stop shopping. Our extruders are the workhorses of the industry. Our depth of wire and cable extrusion knowledge and experience is unsurpassed in the wire and cable industry.
Aerial cable, building wire, coaxial and composite cable, video pair cable, tray cable, CATV, THHN and THWN wire are just a few applications accommodated by our wire and cable machinery.
For more information on Maillefer Wire and Cable machinery, please visit here.
Davis-Standard has been an innovator in developing high-temperature aerospace wire extrusion systems with the ability to produce lighter and stronger products. Cost cutting solutions have come in the form of weight reduction, smaller diameters and greater flexibility.
Davis Standard offers the option of built-to-order extrusion systems with the performance and dependability of field-proven designs.
Typical Aerospace Wire System Components:
Single Reel 630mm Shaftless Payoff
Low Tension Dancer
Preheater
Inner Layer Extruder, 1.25-inch (32mm) 24:1 L/D
Gravimetric Blender
Precision Fixed Center Crosshead
Spark Tester, 15KV
Skip Detector
Vacuum Pump
Scrap Capstan
Outer Layer Extruder 1.50-inch (38mm) 24:1 L/D
Precision Fixed Center Crosshead
Gravimetric Blender
Spark Tester, 15KV
Cooling System
Belt Wrap Capstan
Diameter Measuring Dual Plane with flaw Detection and Concentricity
Wire Damager
Low Tension Vertical Accumulator
Dual position 630mm Take-up
Control System: EPIC III®
Typical Specifications
Conductor - 10 – 30 AWG, 16 AWG = 19/.287  1.44 mm OD, 26 AWG = 19/.102 / 0.51 mm OD
Conductor Type - Stranded Copper / Copper Alloys /Silver Alloy / Nickel Alloy
Insulating Materials - 38mm Extruder: ETFE/X-ETFE (TAIC Compounded) / 1.5-inch Extruder: ETFE/X-ETFE (TAIC Compounded) / 32mm Extruder: ETFE/X-ETFE (TAIC Compounded) / 1.25-inch Extruder: ETFE/X-ETFE (TAIC Compounded)
Wall Thickness Range - 0.076 to 0.30mm
Outside Diameter Range - 0.67 to 4.4mm
Line Speed - 15 - 210 mpm
Davis-Standard is a global leader in supplying high-speed automotive wire insulating extrusion lines to produce low-voltage automotive cables for signals, pressure gauges, lights, lighters, alarms and controls. These lines, available from 19 to 24-gauge, are engineered for reliable performance and consistent quality. Both standard thermoplastic materials and cross-linked flame retardant polyethylene (XLPE and HFFR) can be processed utilizing Slant Line CV technology. Automatic color change systems for primary insulation, skin and striping minimize scrap while maximizing production.
Typical Automotive Wire System Components:
Dual Flyer Pay-Off
Input Capstan with Tension Control
Preheater
Primary Extruder, 2.5-inch (64mm) 24:1 L/D
Secondary Extruder 1.5-inch (38mm) 24:1 L/D Horizontal or Vertical
Dosing System Volumetric / Gravimetric
Quick Color Change System
Diameter Measuring Dual Plane
Spark Tester, 15KV
Diameter Measuring Dual Plane
Multi-Pass or Regular Capstan (based on type of take-up
Take-Up System Dual Reel, NPS System, Barrel Packer
Control System: EPIC III®
Typical Specifications
Conductor - Flexible copper: 0.22 - 7mm2 / Flexible copper: 26 awg - 10 awg
Diameter Over Insulation - Up to 5.5mm / Up to 0.216 inches
Maximum Line Speed - 1500 mpm / 5000 fpm
In the area of power cable, Davis-Standard designs and manufactures both steam and dry cure extrusion systems (to 35 kVA). Steam extrusion systems are best suited for a minimum investment, and for extrusion compounds not formulated for high-temperature curing. This equipment processes rubber, XLPE, and regular thermoplastic polyethylene without changing a major piece of equipment. A nitrogen extrusion system (dry cure) provides a fast and economical option for thermoset insulations, particularly XLPE.
Typical Specifications
Conductor - Copper/aluminium, 0,5 - 500 mm²
Conductor Design - Round and sector shaped
Diameter Over Insulation - Up to 45mm / Up to 1.8 inches
Maximum Line Speed - Up to 1200 mpm / Up to 3840 fpm
With over 250 installed building wire systems worldwide, Davis-Standard is a market leader. Our high output wire and cable extrusion lines are engineered for insulating single cores and jacketing multi-conductor insulated constructions. These lines are capable of extruding PVC from powder or pellets and can coextrude multi-layer constructions such as nylon over PVC. Our technology also provides continuous operation with packaging of the product in coils, on reels or stem packs.
In addition to supplying fully integrated building wire systems, Davis-Standard specializes in the design and manufacture of components required for high-speed extrusion. All Davis-Standard wire and cable extrusion equipment can be customized to meet individual processor's needs.
Typical Building Wire System Components:
Wire Drawing - Dual Flyer Pay-Off
Input Capstan with Tension Control
Preheater
Primary Extruder, 6-inch (152mm) 24:1 L/D
Secondary Extruder 3 1/2-inch (89mm) 24:1 L/D Horizontal or Vertical
Dosing System Volumetric / Gravimetric
Quick Color Change System
Diameter Measuring Dual Plane
Spark Tester, 15KV/30KV Diameter
Measuring Dual Plane
Multi-Pass or Belt Wrap Capstan (based on conductor size)
Take-Up System Dual Reel, NPS System, Barrel Packer, Gantry
Control System: EPIC III®
Typical Specifications
Conductor - Solid and stranded copper: .456 – 506.7 mm² / 22 awg – 1000 mcm
Diameter Over Insulation - Up to 33.5mm / Up to 1.32 inches
Maximum  - Line Speed 2590 mpm / 8500 fpm