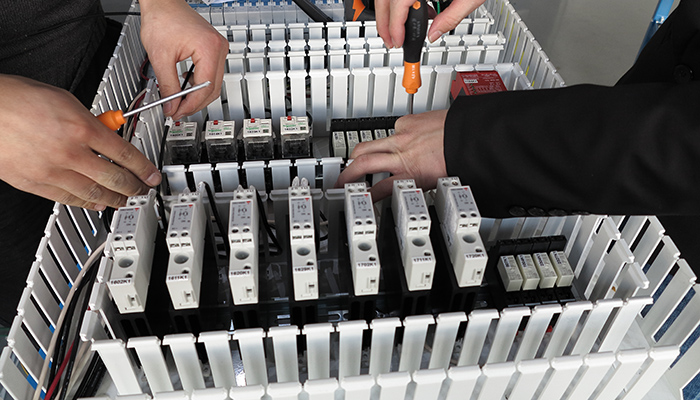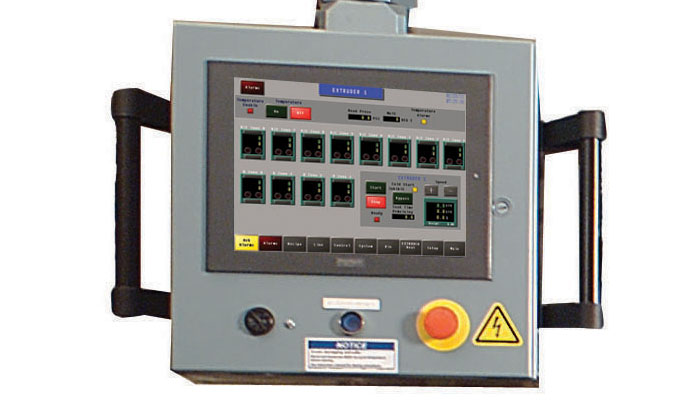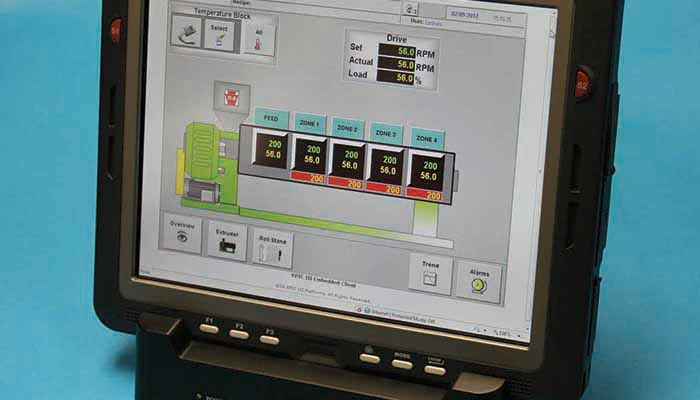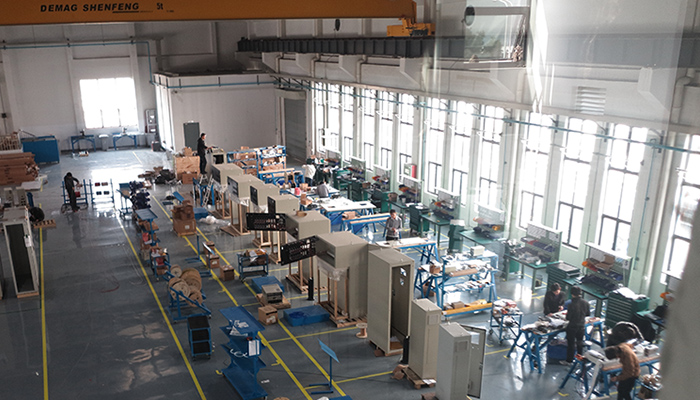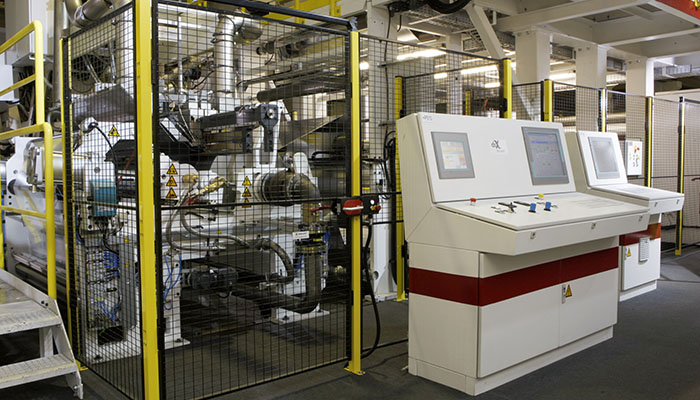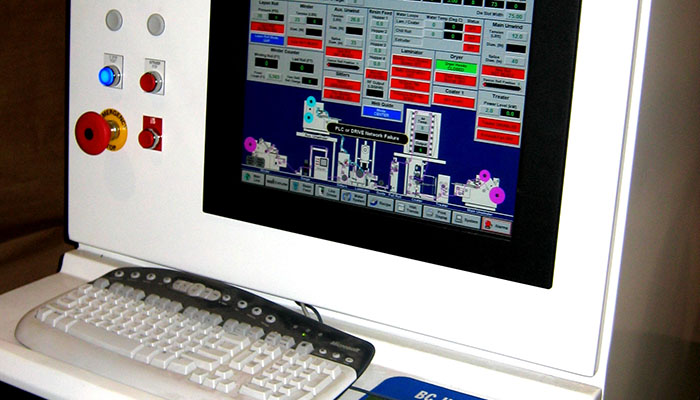 Flexible and Customized Extrusion Control Solutions for Every Process
DS-eTPC touch-screen control
DS-Tablet hand-held operator interface
The brain of the extruder drives your operation and smarter process controls make a huge impact on the bottom line. That is why every system in Davis-Standard's full line of process controls is operator-friendly, efficient and reliable. From discrete to full supervisory control, our control systems are engineered in-house to ensure quality and value.
The signature EPIC III® and Integrator controls, the portable DS-Tablet and affordable DS-eVUE are just a few of our technologies that take the guesswork out of your extrusion operation. Davis-Standard's proven systems do the thinking for you about systems integration, temperature control and process controls.
EPIC III®
Davis-Standard's EPIC III® is an advanced Windows®-based touch screen extrusion process control system offering complete plant management and process control capabilities. Advantages include:
Adaptable and expandable touch screen displays
Supervisory features: event logging, customized reports, SQC, historical trending, maintenance/troubleshooting, pressure set-up and more
Partial and complete line overview, detailed extruder data, recipe creation/storage, etc.
iFIX™ SCADA software for Windows®
ControlLogix™ PLC platform (optional Siemens S-7)
Connectivity solutions for remote data access via laptop and Web browsing
Object linking and embedding for process control
A multiple-level security system to protect set-up functions and accessibility
Network capability for remote monitoring of multiple systems
Available DVD writer and removable hard drive for secure system data back-ups
The DS-eVUE combines many features of the EPIC III® with the low-cost requirements of previous HMI applications. Features include:
15-inch widescreen
Graphics overview
Reports
Trending
Event log
Data collection
WEB interface (2 concurrent users)
Email notifications
FDA-21 Part 11 ready
Electronic signatures
The DS-eTPC (touch panel control) offers comprehensive integrated touch-screen control with attractive pricing. Advantages include:
Coordinated line drive control (standard feature)
Operator friendly design
Cold start inhibit
High and high-high alarms for each pressure point
Recipe creation and storage
Provision for system networking to a supervisory computer via Ethernet LAN
Pre-configured and engineered levels with added temperature and line control options
Optional closed loop pressure control for melt pump operation, additional line drive and heat zones
Optional line drive
Davis-Standard's hand-held operator interface – the DS Tablet – is a convenient option available with the EPIC III® (iFIX) system. It features:
10.4-inch touch-screen
Wireless connection to EPIC III®
Windows embedded software
Docking station, USB ports, charger, and solid-state drive
Rugged design for industrial environment
Operator access functions while in areas not practical for typical OCS locations
Concurrent remote viewing of EPIC III® on office PC with Internet Explorer®
Other advantages of the DS Tablet include:
A process control screen similar to the EPIC III®
Temperature screens to change set-point
Line control screens to change drive set-points
Ability to create, select and view historical trend groups (historical data is stored on the EPIC III®)
Viewing and acknowledgment of new and current alarm settings
Print reports at the EPIC III®
Security for engineer, supervisor and operator groups
Using the ReACT support system customers can enjoy high-speed remote troubleshooting support from Davis-Standard via a secure Internet connection. This system provides real-time viewing and control of EPIC III® screens and PLC systems without affecting the current application. It also provides a faster response to customer needs regarding EPIC III®/PLC controls or process issues.
Uses standard Internet Explorer®
Service is intended for troubleshooting and process support
Works using a third hard drive, which is connected by the customer when support is needed
MACO® 6500RSE
This cost-effective system, an upgrade from the MACO® 6500RS introduced in 2005, is available for retrofit to existing systems. It offers a number of enhancements including screen updates nearly three times faster than older systems. The Operator's Graphical User Interface has been upgraded to Wonderware® 8.0 and Windows® XP Professional that communicate with the PLC over two separate servers instead of one. This allows for transmission of set points over one server while values are transmitted over another, saving time and improving functionality.
Other significant upgrades include machine screens in several languages, an upgraded setpoint change log to track changes made by the machine operators, a Statistical Process Control program to continuously track 34 items each cycle, and a recipe "save" function to verify recipe names and eliminate the potential for lost recipes. A new "Heat Soak" feature reduces the chances for a cold start-up by requiring machines to be above the low-temperature alarm for at least two hours before the extruder and head tooling programming hydraulics will run. In addition, now both the PLC and Operator's Station have an uninterruptible power supply to keep them from shutting off during momentary power failures.
As with the MACO® 6500RS, this system includes closed-loop synchronous shoot/fill, adaptive speed control and a PLC ladder logic that can be viewed in real time. Davis-Standard also offers a range of on-site training programs as well as 24/7 telephone service. Especially advantageous is the availability of real-time computer-direct machine service through the Internet.
DS5®
The DS5® is Davis-Standard's secure service support system. It offers comprehensive customer service using a safe and secure high-speed Internet connection. (Note: It is the customer's responsibility to provide the high-speed Internet connection.)
Advantages include:
Faster response time to customer needs
Faster access time to diagnose and fix problems
Ability of Davis-Standard service personnel to connect to customer equipment from anywhere in the world
Safe and secure connection (only authorized users have system access)
Cost savings by avoiding lengthy downtimes
This innovative control system combines total line control and data monitoring into one multi-functional information center. It is specifically designed for high-level converting processes encompassing cast film, blown film, extrusion coating, solvent and aqueous coating and drying. The features are many!
Provides access to all machine functions including the temperature controller, PLC, and line drives interfaces
Supervisory control that integrates all converting machine line components into a single user-friendly operator interface, connecting:
Unwinds
Winders
Coaters and dryers
Extruders
Laminators and cast sections
Water recirculation systems
Resin feed and blenders
Web guides
Treaters
Gauges
Graphics based, operator-friendly touch-screen interface with a keyboard to see the entire process at a glance
Line run interlocks and diagnostics clearly identified to help the operator get the line running quicker
Historical data tracking and alarm event logging help in troubleshooting product quality and uniformity problems, as well as tracking machine performance (Provides the operator with a single location to quickly locate and identify a machine or process problem.)
Recipe management for a large number of line setup parameters to be stored and reused for quick and easy start-ups and product changeovers
Process reports and screen prints that allow the accurate documentation
Multiple languages option for access to the language of choice by pressing a button
System security and system backup keep the equipment up and running
System networking
Multiple systems networked on one line
Multiple lines networked in one plant
Multiple plants networked around the world
Data available anywhere.
Standard PC computer hardware, designed for Microsoft® Windows® XP and
Wonderware software engine
Phone line and/or Internet access
Expandable System Control Options
We offer several options to expand your current controls system. These include:
Downtime tracking and production monitoring
Company-wide telephone and messaging system
Real-time relational database for the factory
Basic tools to assist in organizing and presenting substantial production data
Connections to link multiple machines, office computers and plants together
Capabilities to view real-time production data from any computer, anywhere in the world using a standard Web browser
Automatic die control system
Resin feed system with gravimetric capability