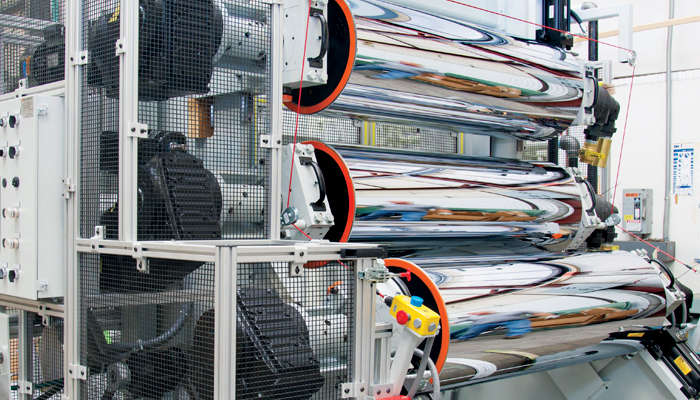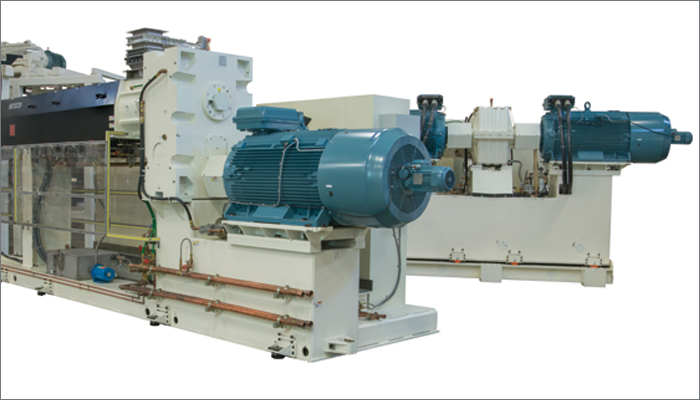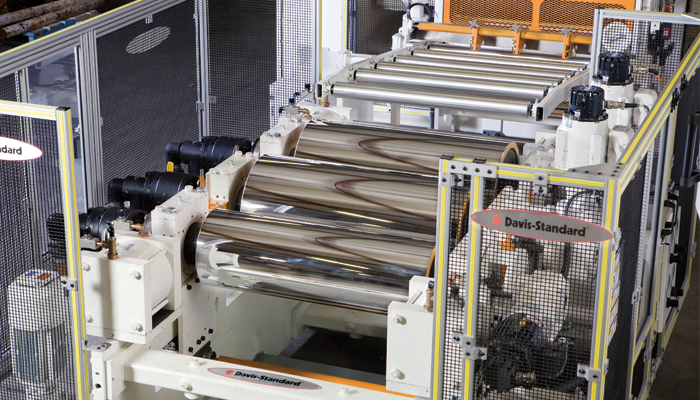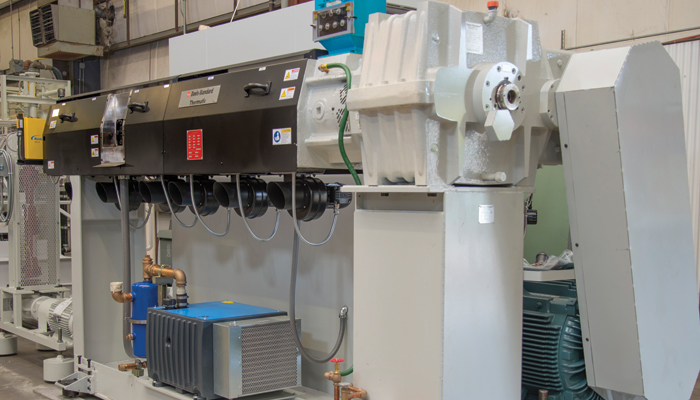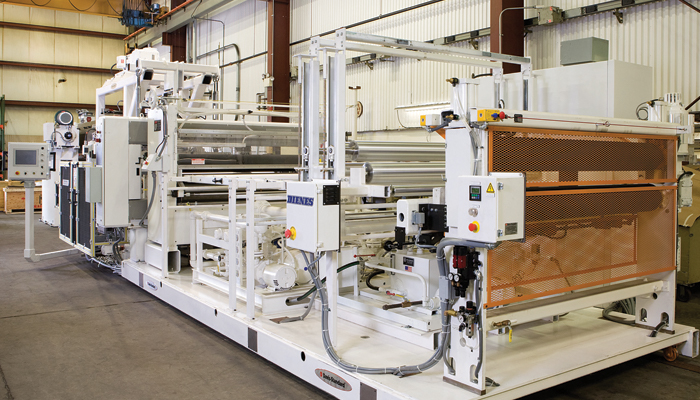 Davis-Standard's international presence as a premier supplier of sheet extrusion machinery reaches customers in the automotive, construction, industrial and recreational markets, foodservice industry, and those in high-end medical and personal care applications.
Our signature XP Express® and EX-M-PLAR® series roll stands, chill roll technology, feedscrew designs, and coextrusion knowledge enable value-added manufacturing of multi-layer sheet. This includes heavy gauge, high-density PE, low-density PE, PMMA, PS, ABS, PP, PET, high barrier and high-temperature sheet.
We've engineered sheet systems for foam, flexible and rigid sheet extrusion for applications up to nine layers. Bring us your idea and we'll deliver the solution.
Part of Davis-Standard, Thermoforming Systems LLC (TSL)  designs, manufactures and markets leading-edge thermoforming equipment to the North American food packaging industry. TSL is the market leader in thermoforming equipment technology for high-volume packaging. TSL solves thermoforming challenges by providing the appropriate products and services that are quantifiably superior to other options. Alongside Davis-Standard, TSL has a variety of manufacturers in the extrusion, tooling, automation, and granulating industries in the USA and worldwide to offer full project services, providing the end customer with a single point of contact for their project.
Disposable & Food Service Packaging (HIPS, PP and PET)
Davis-Standard has years of experience supplying complete turnkey sheet extrusion lines for sheet utilized in thermoformed packaging. Our experience and capabilities include:
In-line and off-line thermoforming sheet designs
High speed extrusion systems
Non-dried and dried APET sheet solutions
On-line low bulk-density scrap re-processing capabilities
Single lane or multilane extrusion to maximum cooling  performance
Special FFS quality sheet line designs
Special nipping and non-nipping auxiliary cooling carts.
We understand the importance of each piece of equipment on a sheet line and offer a wide range of DS-built and DS-specified equipment with experienced partners.  Our application engineering is second to none and we work with each customer to deliver a sheet solution that will meet their production demands.
Bigger and faster sheet lines require most sophisticated controls and our DS-eVue and EPICIII® control systems allow complete line control, with the following benefits:
Touch-screen displays with complete line overview, detailed extruder data, recipe creation, etc
ControlLogix or Siemens PLC platform
Connectivity solutions for remote data access via laptop and Web browsing
Multi-level security system to protect set-up functions and accessibility
Typical Specifications
Applications - Thermoformed packaging, Form Fill Seal (FFS) packaging
Line Speed Range - 1.5 to 60 mpm / 5  to 200 fpm
Size Range - 0.25 to 2.5 mm / 0.010 to  0.100 inch
Materials - HIPS, PP and PET
Density Reduction & Filled Sheet (High Density Foam, Polymer Replacement)
Achieving cost reduction is our goal for applications in the packaging, automotive, appliance, building products and consumer products industries. One of the best ways to do this for sheet applications is through density reduction and/or the use of lower cost fillers. Davis-Standard offers sheet and foam application engineering that is second to none, working with experienced partners to ensure customers have the system their process demands. This includes chemical and physical blowing agent system that allow for material savings of five to 30 percent, as well as systems for feeding talc, CaCO3 and other fillers.
Typical Specifications
Applications - Thermoformed packaging, form fill seal (FFS) packaging, insulating sheet
Line Speed Range - 1.5 to 90 mpm / 5 to 300 fpm
Thickness Range - 0.25 to 2.5mm / 0.010 to 0.100 inches
Materials - HIPS, PP, PE, HDPE and PET
Appliance & High Quality Electronics Sheet (HIPS, ABS, Acrylic (PMMA), PC, PETG)
Appliance and high-quality electronic sheet applications demand perfection. Davis-Standard has extensive experience in this area. We supply sheet systems that achieve high-quality surface finishes and that utilize engineering plastics to deliver required physical property performance. This includes sophisticated controls for bigger and faster sheet lines.
Advantages include on-line low bulk-density scrap reprocessing capabilities, single lane or multi-lane extrusion for optimal cooling performance, and high-speed stacking systems to accommodate maximum available output and cooling.
Typical Specifications
Applications - Signage, POS/PPS displays, LCD screen components, lighting and white goods
Line Speed Range - 0.5 to 30 mpm / 1 to 100 fpm
Size Range - 0.25 to 12mm / 0.010 to 0.500 inches
Materials - HIPS, ABS, Acrylic (PMMA), PC, PETG
Heavy Gauge Industrial Sheet for Marine and Automotive (HMWHDPE, PP, PMMA)
Davis-Standard's innovative extrusion design engineering and extensive field experience enable us to supply proven technology for plastic sheet utilized in heavy sheet applications for the marine and automotive industries. In addition to Davis-Standard engineered technology, we have trusted relationships with industry partners who augment our lines with specified equipment needed to support our customer's production demands. This coupled with our extensive control system capabilities give our customers peace of mind knowing that they can come to a single source for the heavy gauge sheet requirements.
Advantages of our sheet extrusion equipment include capabilities for producing heavy gauge sheet from 1/2 to 3-inch thicknesses, an online lamination system to allow quick pattern changes, single or multi-lane extrusion for maximum cooling performance, and high-speed stacking systems to accommodate maximum available output and cooling.
Typical Specifications
Applications  - Wall partitions, canoes, fender wells/guards, cutting boards, marine applications
Line Speed Range - 0.25 to 3 mpm / 0.5 to 20 fpm
Thickness Range - 12 to 75mm / 1/2 to 3 inches
Materials - HMWHDPE, PP, PMMA
Roofing and Coating Sheet Lines (TPO, FPVC, PP, PE)
Davis-Standard has over 40 years experience supplying complete turnkey sheet extrusion machinery solutions for roofing and coating sheet applications. In addition to versatile equipment options, we supply control systems to support processing efficiency and user-friendly machine operation.
Our sheet extrusion capabilities for roofing lines include direct in-line compounding or single screw extrusion systems (TPO and FPVC) for roofing and waterproof membranes. Advantages include innovative designs for heat-sensitive formulations, process verification capability prior to machine production, customized widths based on output rates and variable width requirements, and multiple unwind and secondary substrate laminating capability.
For automotive and industrial carpet lines we supply carpet back extrusion coating systems (PE, FPVC, TPO) for commercial carpet and tile carpet applications as well as automotive floor mat and sound attenuation applications. Our thermoplastic extrusion process replaces solution latex coating processes. Advantages include high output extrusion rates for efficient processing, energy savings through reduced solution-based product drying, and a smaller footprint. High material mineral fill levels also reduce production costs as does the addition of recyclable content.
Typical Specifications
Applications - Roofing membrane, waterproof membrane, geotextiles, banner/signage
Line Speed Range  - 1.5 to 90 mpm / 5 to 300 fpm
Thickness Range - 0.25 to 2.5 mm / 0.010 to 0.100 inch
Materials - TPO, FPVC, PP, PE
Clear Sheet for PPE Applications
With continued growth in the PPE marketplace due to COVID-19, Davis-Standard is equipped to supply new line capabilities or upgrade existing lines. A variety of PPE resins can be processed on most sheet lines with a few modifications. Our extruders, melt pumps, dies, and roll stands offer the versatility needed for making FDA approved clear plastic sheet in a cost-effective manner. Factors such as extruder torque, optimized screw design, machine direction thickness control, dies built for specific resins, and the right roll stand configuration all contribute to a more efficient PPE sheet process and desired outputs.
Equipment advantages include extended field range motors, vented and plugged extruder barrels, controlled leakage flow, reduced pressure variability, preferred die features, vertical downstack, J-stack and horizontal stack roll stands, and a range of control system technology. Our team is available to evaluate existing capabilities and make recommendations based on application or quote a new system, sized to meet your needs.
Typical Specifications
Applications – Barrier guards, Face shields and protective devices, disposable healthcare products.
Materials – PET, PETG, PMMA, PC, CPS, PP
Davis-Standard offers a comprehensive line of laboratory and pilot-scale equipment designed to meet sheet processing requirements for product development, polymer research, material testing, and validation. This includes extruders, process controls, feedscrew technology, and
roll stand options. Single or multi-layer laboratory systems are available as well as individual components. Sturdy and reliable construction simulates production performance and accuracy. Advantages include:
Vertical Down Or Horizontal Stack Configurations:
Stack width from 8"-24"
Roll diameter from 5"-12"
Stack rolls can be driven individually or with single chain drive
Pneumatic or hydraulic nip pressure
Touch screen control of independent stack drives
Independent torque and speed control available
Meets ANSI B 151.20 sheet safety standards
Options: high-temperature rolls, slitting, substrate pay-off, corona treating, stack rolls with alternate finish, and on-line thickness gauge
Typical Specifications
Line Speed Range – 1-20fpm
Thickness Range – .005"-.125"
Materials – Typical thermoplastics and engineered resins
 As a world class equipment supplier and preferred business partner of EDI®, Davis-Standard is pleased to be the systems integrator for the new Prodigi™ die systems. Using this die technology, converting customers have the opportunity to boost converting performance at a significant cost savings. This patent-pending motorized lip actuator system allows for faster APC control achieving spec in 3-4 times faster than thermal bolt dies. 
Improve team safety

 

Greater energy savings

 

Optimal repeatability

 

Faster set-up speed

 

Gain additional stroke

 

Results validated