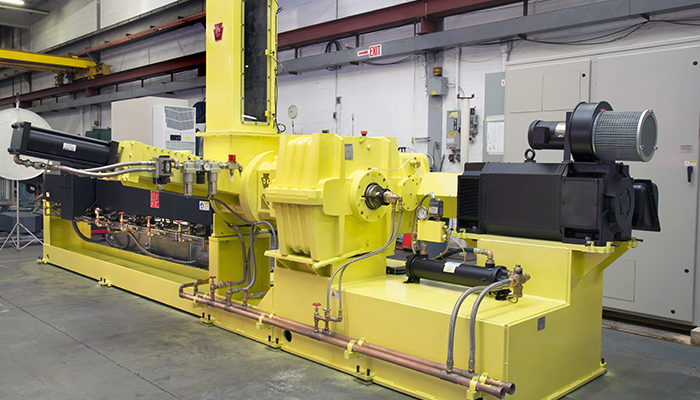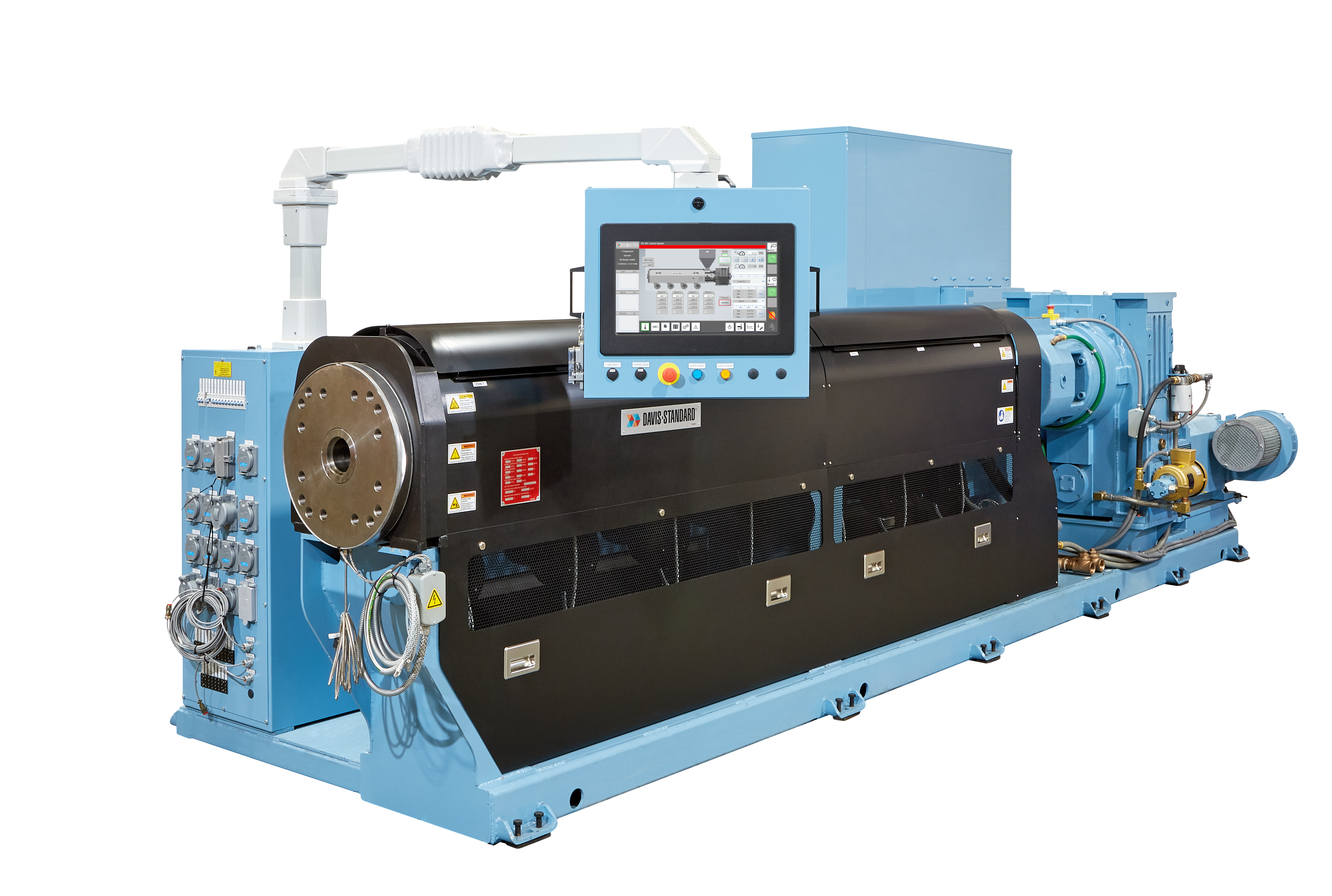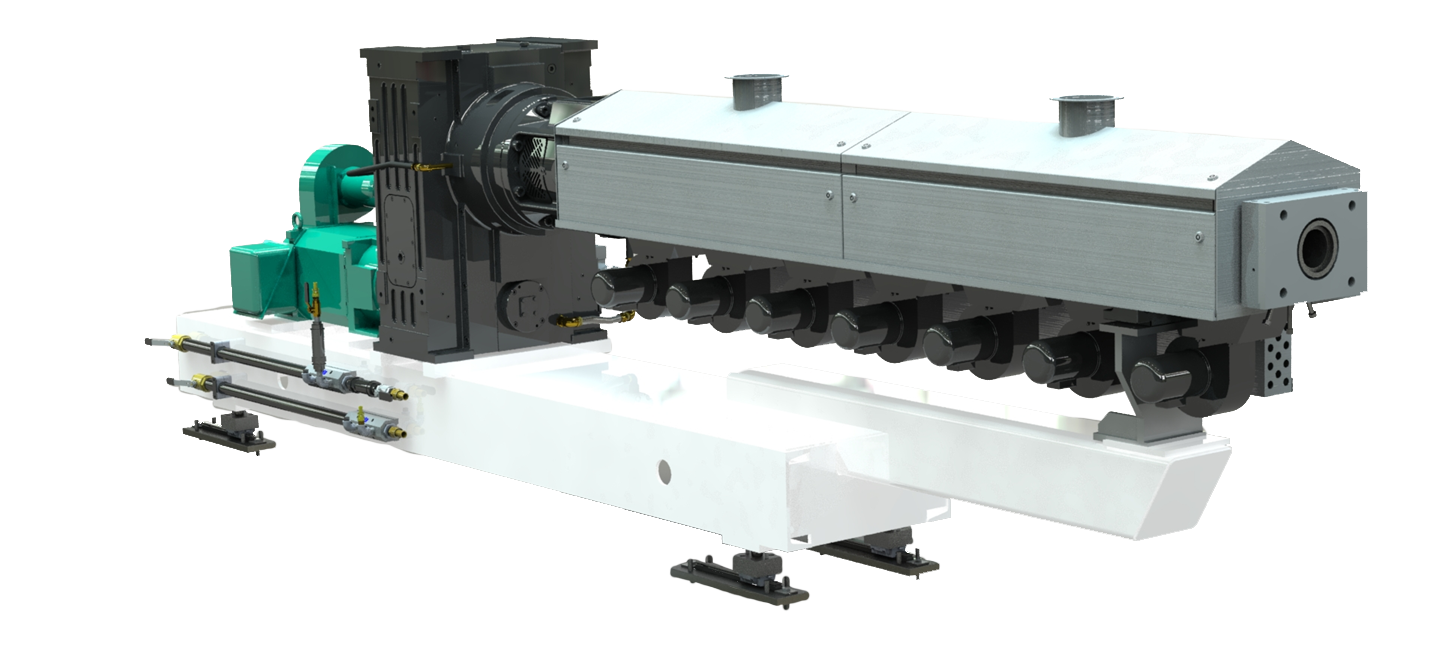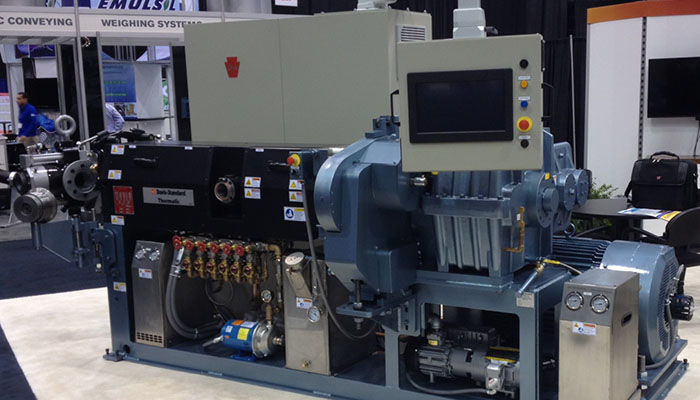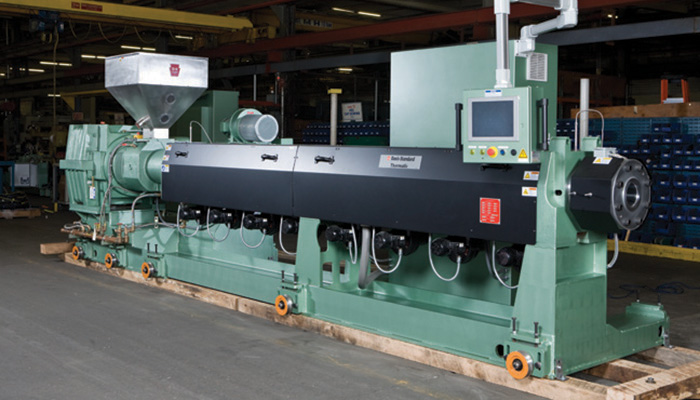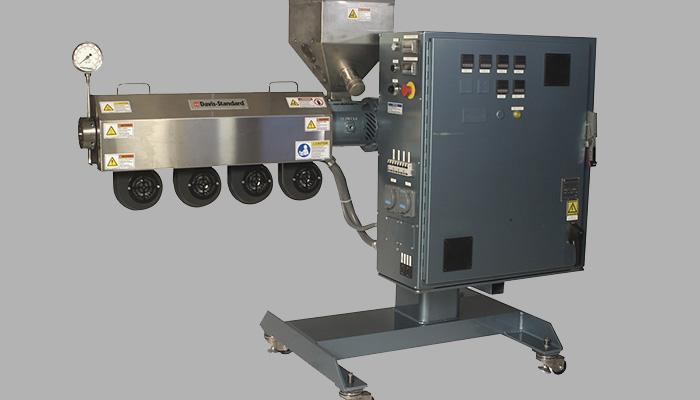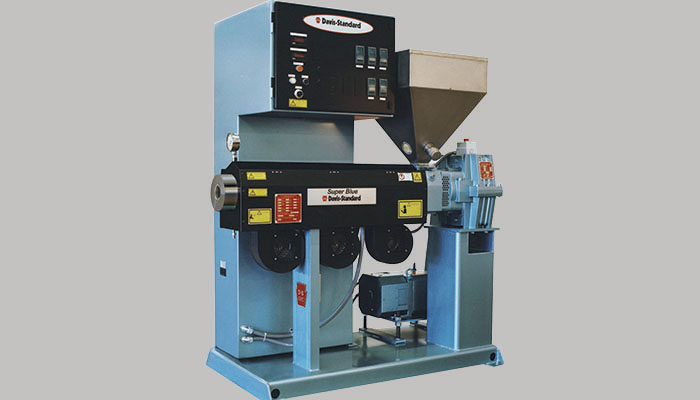 The Industry's Premier Extruders
What separates a Davis-Standard extruder from the competition? Our customers will tell you it's the unparalleled performance and durability that makes the difference. Our extruders are so reliable that some are still operating after 50 years of continuous service. This track record combined with high output rates and a rapid return on investment make Davis-Standard extruders the workhorses of the industry.
From single and twin screw extruders to specialty, reclaim, medical and elastomer extruders, the depth and availability of our extruder offering is what makes Davis-Standard the global extrusion leader. We are also recognized for our coextrusion technology, supporting both vertical and horizontal coextrusion configurations.
Regardless of application or location in the world, we have the extruder to suit your requirements and budget.
Cold Feed (DSR) Rubber Extruders
Available in 2 1/2 inches (65mm) to 6 inches (150mm) with L/D ratios of 10.5:1, 12:1, 15:1, 17:1 and 20:1
Equipped with unique pneumatic roller feeder to compensate for feed strip variations
Improved output stability
Multi-zone temperature control via double cast aluminum heater cooler
Gear Extruders
Available in 70, 120 and 150mm sizes and with 200, 300 and 370mm screen diameters
Two-roll feeder for single and multiple strip feeding
Hydraulic head clamp
Three temperature control zones
Touchscreen PLC control
Dual head capability
Dancer trim control and feed strip detectors
Cold Feed Rubber Silicone Extruders
Available in 1 1/2 inches (40mm) to 8 inches (200mm) with L/D ratios of 10.5:1 and 7:1
Available as a silicone strainer, with a vertical crosshead, and in Lo-Boy configurations
Unique pneumatic roller feeder to compensate for feed strip variations
Optional stainless steel hopper with sight glass for pellet stock capability
Multipurpose Cold Feed (DSRE) Rubber Extruders
Available 1 1/2-inch (40mm) to 8 inches (200mm) with L/D ratios of 20:1
Equipped with unique pneumatic roller feeder to compensate for feed strip variations
Multi-zone temperature control via double cast aluminum heater coolers
Thermatic® Extruders
Diameters: 1-1/2-inch to 12-inch (40mm-305mm)
Top of the line for all polymer requirements
Air or water cooled as standard
Integral or free-standing control panel
Double reduction gearbox with hardened gears available
Pressure lubrication on gearbox
Super Blue® Extruders and EuroBlue® Extruders
Diameters: 2-inch (50mm), 2-1/2-inch (65mm), 75mm, 3-1/2-inch (90mm)
Standard cost-effective design
Double reduction gearbox
Air cooled
Control panel mounted on base
Delivery as quick as two weeks from the order date
Groove Feed Extruders
Diameters: 2-inch to 6-inch (50mm-150mm)
36:1 effective L/D ratio
High output for polyolefin materials
Double reduction gearbox
Pressure lubrication on gearbox
HPE-Horizontal Extruders
Diameters:3/4-inch (20mm), 1-inch (25mm), 1-1/4-inch (32mm), 1-1/2-inch (38mm) & 1-3/4-inch (45mm)
Caster mounted for portability
Double reduction gearbox
Compact design
Integral control panel mounted on base
HPE-Vertical Extruders
Diameters: 3/4-inch (20mm), 1-inch (25mm), 1-1/4-inch (32mm), 1-1/2-inch (38mm) & 1-3/4-inch (45mm)
Utilized in coextrusion applications
Motorized and manual position available
Vertical design for space consideration
Control panel mounted on base
MEDD Extruders
Diameters: 3/4-inch (20mm), 1-inch (25mm)
(40mm)
Direct drive motor
Replaceable feed section liner
Compact design for medical applications
Interchangeable barrel liners
Thermatic® High-Speed Extruder
Maximum Drive Power: 600 HP
Maximum Speed: 1200 RPM
Gemini® Conical (GC) Twin Screw Extruders
Available GC-40: 1.6/3.4-inch (40/86mm), GC-61: 2.4/5.1-inch (61/130mm), GC-65: 2.5/5.1-inch (65/165mm)
Low rpm screws with internal sealed water-cooling systems
Rugged, high-performance gearbox
Flood feed capacity
High-efficiency Thermafin air-cooled barrel heaters and sealed
Water-tempered screws
Gemini® Parallel (GP) Twin Screw Extruders
Models: GP-94, GP-114, GP-140
Low RPM design
High torque gearbox
Equipped with a control cabinet and drive motor mounted on a common base
Preheater available on GP-114 and GP-140 models
Compounding & Reclaim Extruders
Ram Stuffer Extruders
Diameters: 3 1/2-inch (90mm), 4 1/2-inch (115mm), 6-inch (150mm), 8-inch (200mm)
Designed for reclaiming low bulk density feedstocks
Pneumatic ram to stuff material into the screw
Extra large feed throat to maximize feeding in low bulk density material
Scrapper® Dual Diameter Extruders
Extra large feed throat and feed assist components for added efficiency
Widely used ram stuffer and crammer extruders available
Models: 350/600 (Process/Feed), 450/800 (Process/Feed), 650/1000 (Process/Feed)
Ideal for processing scrap in web form directly from rolls, low or high bulk density material
Feed assist component eliminates cost of shredding, grinding, and densification
Hot Melt Extruders
A throat opening that is 12 to 14 times the size of standard throat openings
Capable of batch, continuous, or rope feeds
L/D that is designed for specific applications
Vented barrel available to assist with issues related to volatiles
Scrap Reclaim Extruder
Diameters: 3 1/2-inch (90mm), 4 1/2-inch (115mm), 6-inch (150mm)
Gear reducer, feed section, barrel and drive motor are mounted to a rugged base
Aggressive feedscrew designs for increased production rates
Barrels are bimetallic lined for long wear