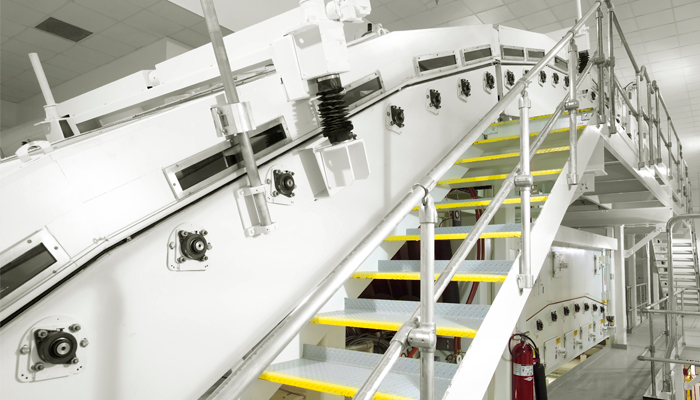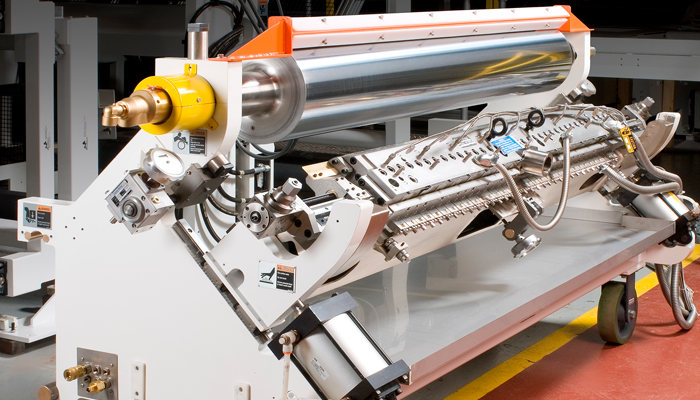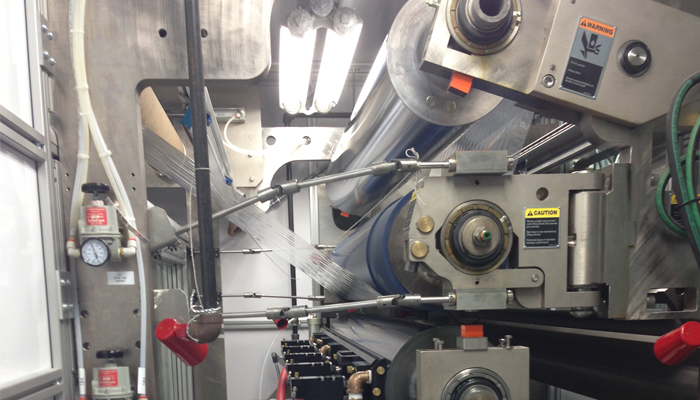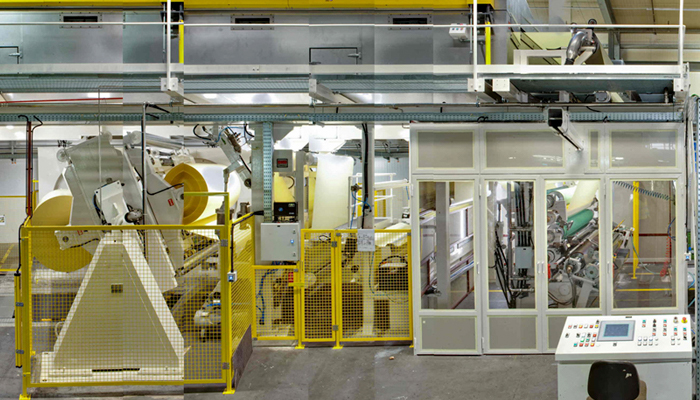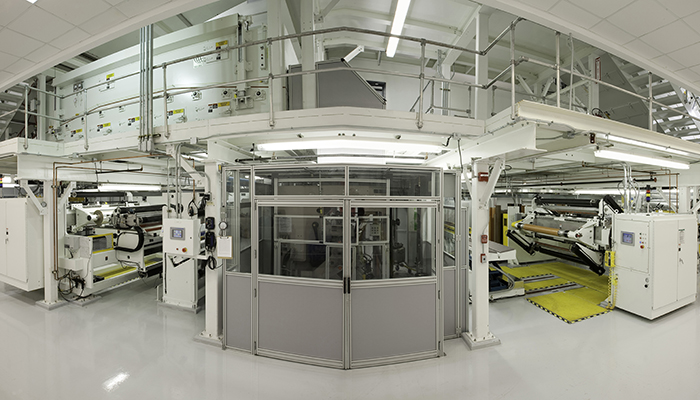 Liquid Coating that Optimizes Efficiency
Davis-Standard's liquid coating systems are used throughout the world for tapes and labels, silicone-coated products and in specialty coating markets. With more than 50 different standard and custom liquid coating products, we provide profitable solutions for the building and construction, automotive and medical industries.
When it comes to achieving the right viscosity, emulsion, pH and adhesive characteristics for your liquid coating applications, you need a proven and trusted partner. Davis-Standard's experienced engineers consider multiple variables when building lines for specialty-coated products — ensuring the best solution for your liquid coating specifications.
Regardless if your process demands using film or paper substrates and applying ultra-thin or thick coatings, Davis-Standard's liquid coating solutions support process improvement and production efficiency in cleanroom environments, slow or high-speed applications, or precision coating and drying technology.
We're constantly asking ourselves what machinery is needed to make the very best tapes and labels? And how do we do it more cost-effectively than anyone else? We know the difference between a good product and a great product: curl-free quality, uniform lamination, and dryness of the end product. We appreciate clear-to-core winding technology that lets you ship right off the winder, as well as no fold-back splicing and zero telescoping during indexing.
That's why our tape and label experience and capabilities include clean room applications, laminations, low to high-speed applications, and narrow to wide applications. We pride ourselves on efficiency with increased line speeds and shortened dryer lengths of up to 30 percent thanks to innovative nozzle systems. Precise tension control of line sequences allows our customers to run higher line speeds with better quality control. We work with you to get the job done right.
Typical Specifications
Widths - 1016 to 2794 mm / 40 to 110 inches
Line Speeds - 15 to 457 mpm / 50 to 1500 fpm
Tension Range - 9 to 136 kg / 20 to 300 lbs
Winder Diameter - 508 to 1270 mm / 20 to 50 inches
The release liner market is rapidly expanding throughout the world. Thanks to our close relationship with major silicone suppliers, we're able to build equipment to meet demanding market trends. Whether your substrate is film or paper, our team understands which coating methods will produce the highest quality coated products and which winding methods will produce the best wound rolls with minimal downtime. Factors such as eliminating dust in the dryers and including mist removal systems are part of our commitment to customers.
We continually develop new technologies to support process improvement and efficiency. Our Steamex moisturizing system eliminates moisture and curl problems, leading to increased line speeds and paper quality. With our Super T winder, silicone-coated products can be processed at speeds of 3000 fpm (900 mpm) while reducing telescoping associated with conventional turret indexing. These are just a few examples of how our silicone lines are built to work for you.
Typical Specifications
Widths - 1016 to 2794 mm / 40 to 110 inches
Line Speeds - 15 to 914 mpm / 50 to 3000 fpm
Tension Range - 9 to 136 kg / 20 to 300 lbs
Winder Diameter - 508 to 1270 mm / 20 to 50 inches
Specialty & Custom Coating
When building a line for specialty-coated products, considering multiple variables is the nature of the business. Some applications demand a clean room atmosphere that requires nickel and chrome plating for high surface quality. Others call for quick changeovers or precision coating and drying technology. Whether you're in the battery, metalized, graphic arts, presentation media, barrier or some other specialized coating segment, you can count on Davis-Standard's knowledgeable coating experts to work with you to develop the ideal specialty line for your process.
No matter what your requirements call for - complex coating lines with multiple cartridge coaters or more simple lines with a dedicated coater – we develop solutions that can be up and running quickly and profitably. Our knowledge of dryer nozzle arrangements, different substrates and precision applications is assurance that you will achieve the results your business demands.
Typical Specifications
Widths - 1016 to 2794 mm / 40 to 110 inches
Line Speeds - 15 to 914 mpm / 50 to 3000 fpm
Tension Range - 9 to 136 kg / 20 to 300 lbs
Winder Diameter - 508 to 1270 mm / 20 to 50 inches
Paint protection film (PPF) is a growing market segment. This thermoplastic urethane (TPU) base "self-healing" film is ideal for protecting surfaces in automotive, aerospace and electronic applications. TPU films are formulated to provide advantages such as abrasion resistance, impact resistance, puncture resistance, hardness, optical clarity, thermal protection and more.
A typical PPF structure, consisting of a 2-mil release liner, mounting adhesive, TPU film, self-healing coating and 2-mil protective film, is manufactured in a two-pass operation. Davis-Standard is equipped to supply an entire PPF system including the extrusion and solution coating lines. The line consists of components such as extruder, controls, turret winder/roll changer, turret unwind, web cleaner, cartridge coater, roll support dryer, and laminator designed per customer requirements. Davis-Standard also offers equipment audits and consultation for a customer's existing machine set-up to determine what is needed to process a wider range of materials. Laboratory trials determine the quality of new structures, outputs, process parameters, and the feasibility of adding PPF capabilities.
Typical Specifications
Applications – Surface protection, industrial specialties, consumer electronics, transportation
Widths – 62 to 74 inches (1,575 to 1,880mm)
Thickness – 5 to 12 mils
Materials –  TPU