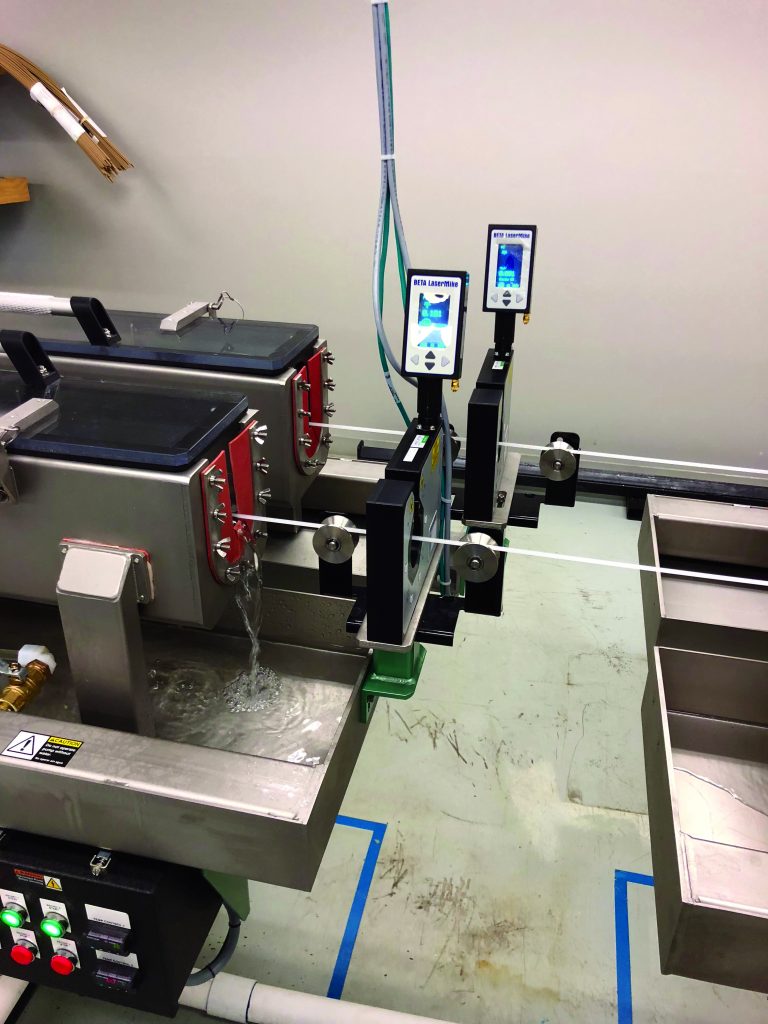 Continual growth in product demand and a full manufacturing floor required Intralox to get creative with their processing options. Intralox, a global leader in plastic conveyor belt technology, recently replaced an older profile line with a new Davis-Standard dual-strand profile line, doubling their output without requiring additional space. The line processes dual-strand solid rod made of PP, PE, PA, Acetal and PEEK materials. Davis-Standard customized the line for Intralox applications, completing delivery and installation within eight months of purchase. The project was so successful, Intralox plans to replace its other profile lines with Davis-Standard dual-strand lines in the near future.
"This new line is a game-changer in terms of production outputs, rod quality and innovation," said Gregory Washington, Extrusion Supervisor at Intralox. "While dual-strand profile technology is not new, it's new for us. We've had great results in terms of speed, equipment performance and ease of operation. Davis-Standard's professionalism and craftsmanship culminated in a perfect solution for our processes. Their team went the extra mile in all aspects including design, factory acceptance testing and installation. Successes like this don't happen accidentally; it takes intentional team commitments and leadership."
Davis-Standard supplied all line components from extruder and controls through downstream equipment. Washington appreciates the intuitiveness of the DS-eVUE control system as well as the dual-strand Y-tooling, accuracy of product dimensionality, cut quality, cooling tank capabilities, and the ability to isolate products with castoff equipment. In addition, Intralox was able to witness and approve the entire operating line at Conair, Davis-Standard's downstream equipment partner. This run-off provided valuable insight into Davis-Standard's ability to customize the line to meet current and future expectations.
"Intralox ships product all over the world to support customers in the automotive, food, industrial, logistics and material handling, packaging, tire and rubber industries," said Sean Stephan, Davis-Standard's regional manager responsible for this project. "Being able to take their outputs from 125 feet per minute to 300 feet per minute on the same line while supporting quality goals really defined this project. Their continued growth and leadership in conveyor systems is testament to their excellence as a company. We are proud to be their extrusion equipment supplier and look forward to our continued work with them."
For more information about Intralox, visit www.intralox.com. For more information about Davis-Standard's pipe, profile and tubing solutions, visit www.davis-standard.com/extrusion_system/pipe-profile-and-tubing/.