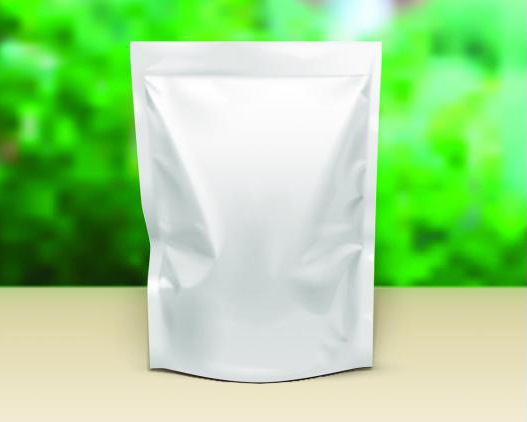 By Lisa McTigue Pierce in Flexible Packaging on August 29, 2018
Technological innovation, sustainability concerns and attractive economics are among the reasons for the phenomenal growth of flexible packaging in the last two decades in the U.S. With an estimated $31 billion in sales in 2017, according to the Flexible Packaging Assn., brand owners are embracing films, pouches and bags as a go-to packaging solution, thanks in part to wide acceptance by American consumers.
But we're also seeing aluminum sourcing concerns because of U.S. tariffs, as well as major competitive moves—reflected, for example, by the recent Amcor acquisition of Bemis.
With flexible packaging so much in the spotlight, Packaging Digest wanted to see what is shifting in the market. So we conducted a virtual roundtable with five industry experts from various areas in the supply chain: resin supplier Nova Chemicals (page 1); printing press maker Comexi (page 2); extrusion/coating equipment company Davis-Standard (page 3); converter Berry Global (page 4); and form-fill-seal machinery manufacturer Pro Mach (page 5).
Their insights show how this dynamic market continues to advance, despite some challenges.
Here are the questions we asked:
1. What top trends are you seeing in flexible packaging and why? What are the drivers?
2. What challenges is the flexible packaging market encountering now and how are they being addressed?
3. Where do you see the biggest growth for flexible packaging moving forward and why?
4. What, if anything, is different about the sustainability message of flexible packaging today versus, say, two or three years ago?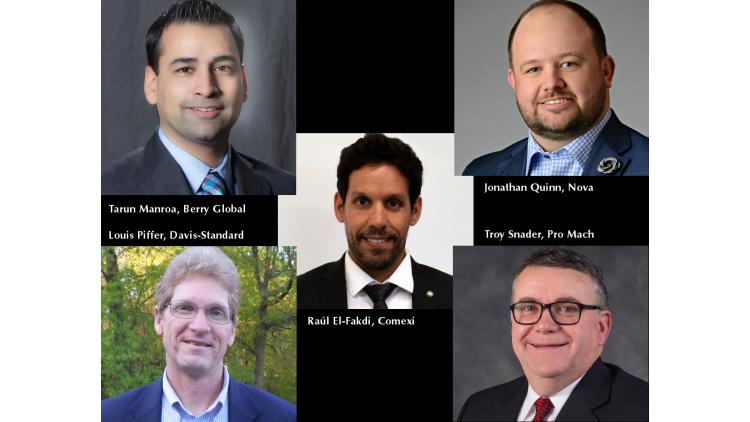 Now, the insights from…
Page 1: Jonathan Quinn, performance films market development manager, Nova Chemicals, a plastics and chemical company that makes resins for flexible packaging.
Page 2: Raúl El-Fakdi, flexo brand manager, Comexi, a family-run manufacturer of flexographic printing, offset printing, gravure printing, laminating and slitting equipment.
Page 3: Louis Piffer, senior sales engineer, Davis-Standard, a designer, manufacturer and supplier of plastics and rubber processing equipment, and extrusion technology and extruder converting systems.
Page 4: Tarun Manroa, evp and general manager, engineered materials division, Berry Global, a Fortune 500 global manufacturer and marketer of plastic packaging products, including pouches.
Page 5: Troy Snader, svp, flexible packaging, Pro Mach, a comprehensive provider of complete packaging machinery solutions, from line design to the end of the line and beyond.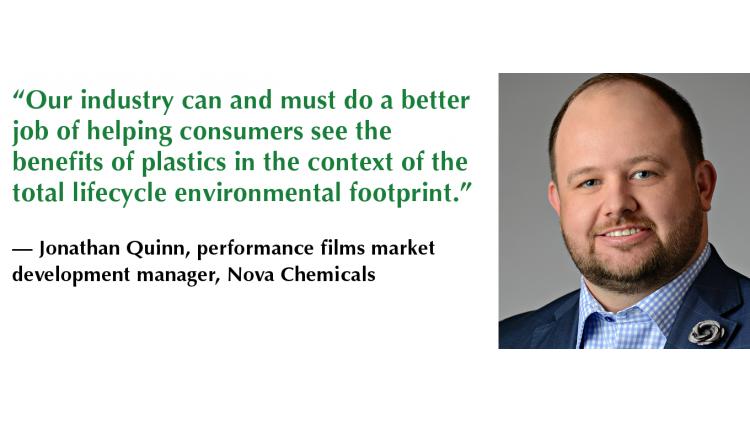 Jonathan Quinn, performance films market development manager, Nova Chemicals, a plastics and chemical company that makes resins for flexible packaging.
What top trends are you seeing in flexible packaging and why? What are the drivers?
Quinn: From an economic perspective, trends like consolidation—such as Amcor's announcement to acquire Bemis—clearly will continue, and we also will see some further uncertainty related to the trade war. Regardless, we believe that packaging trends in the North American market place are driven by the consumer. And three major consumer trends are sustainability, convenience and ecommerce.
1. Sustainability: Shifting demographics and consumer preferences are driving the demand for more sustainable solutions, in packaging and far beyond. Negative publicity around ocean gyres and plastic-filled beaches only add to the urgency to increase recyclability, curbside collection, sorting capabilities and finally innovation to increase demand for recyclable materials. Rigid-to-flexible conversion, with its huge sustainability benefits, has been a trend for some time now. Add to all of these the opportunities resulting from more cost-effective and technologically feasible recyclable packaging solutions available today, and sustainability is at the top of everyone's list.
We are at a unique point in the history of flexible packaging. According to the New Plastics Economy, major brand owners and retailers—including Danone, Mars, PepsiCo and Coca-Cola, and Walmart—are working towards goals around all reusable, recyclable or compostable packaging, and these initiatives are speeding the shift to recyclable flexible packaging.
There is also a significant push by flexible packaging companies for sustainable packaging today. All in all, we're seeing a critical mass of players moving the needle, after many years of talking about the need for action.
2. Convenience, convenience, convenience! The consumer of today is very different than that of the traditional consumer 20 years ago. The younger generations' typical lifestyle is busier and busier, and at the same time, they're looking for healthier options—that often require performance packaging. Everyone is on the go and these buyers want the products they consume to be delivered quickly, consumed easily and disposed of efficiently.
3. Ecommerce: Ecommerce is a game-changing example of the convenience trend. Its efficiencies, coupled with the ease of comparison shopping, are also driving down prices in many sectors. As Business Insider reports, ecommerce is driving virtually all retail growth, and its impact on flexible packaging will grow with it.
According to FMI, the online grocery market alone may reach $100 billion by 2022. Better performing flexible packaging solutions—especially seal integrity and abuse resistance so products arrive at the consumer's door intact—will be a must to support the more rigorous ecommerce supply chain.
What challenges is the flexible packaging market encountering now and how are they being addressed?
Quinn: We see three challenges, as well.
1. Speed of transformative change: The biggest challenge we see moving forward is innovating at the rate of speed required to keep up with rapidly evolving business models. The meal kits delivery business is a great example. In 2018, we are going to get a good idea if this market segment is going to sink or swim. A key driver for it to survive and thrive will be packaging performing at the highest levels, providing consumer confidence that every week their food will arrive fresh and safe to consume. The "safe to consume" aspect will be that the products be efficiently packaged in well insulated secondary package. In addition, meal kit customers feel the amount of packaging is excessive and non-recyclable, according to a Packaged Facts report, so primary and secondary packaging will also have to have a sustainable format.
2. Consumer perception of plastics: Anti-plastics sentiment continues to rise, both in absolute numbers and relative to perceptions of alternative materials. Consumers are being exposed to media and publications showcasing the negative aspects of one-time-use plastics. Municipal bag bans are cropping up and companies like McDonald's are discontinuing the use of styrenics, among other moves across the globe.
Our industry can and must do a better job of helping consumers see the benefits of plastics in the context of the total lifecycle environmental footprint. We need to go even further, and help to develop the circular economy, which today is just starting to take shape.
3. Personalizing the consumer experience: Everything from Coke bottles and cans to candy bars are being marketed as a unique experience for each and every consumer. This trend started in the digital realm and now younger consumers especially expect it with their goods as well. As a result, companies are being forced to find new ways to connect with consumers and give them an individualized experience. The challenge lies both in increased costs to deliver on this experience, and the enormous logistical challenges in implementation.
Where do you see the biggest growth for flexible packaging moving forward and why?
Quinn: The big trends noted above are the main drivers of growth in flexible packaging. Here's why…
Sustainability: A lot of growth in flexible packaging is about conversion that improves sustainability. The first wave was in rigid to flexible, which continues to grow the flexible market tremendously while reducing total lifecycle environmental impact as noted above. The next wave is the move to mono-material and other recyclable film structures, whether from non-recyclable multi-material construction or leapfrog conversions from alternative materials. We see the advent of recyclable performance packaging accelerating the growth of flexible packaging tremendously.
Convenience: Kids have been leading the way in some respects in single serve and on-the-go packaging. Examples include packs of apple slices and carrot sticks, pureed baby food in SUPs with fitments and now squeeze packs of applesauce, or going way back to things like Lunchables. We're now seeing expansion in products like this marketed to adults. Brands are introducing products like retort oatmeal in a SUP with a fitment, and we're even starting to see convenience products in the produce aisle. For example, Dole is now offering pineapple and watermelon individually sliced and wrapped in a flow wrap, then collated into a secondary package.
Granola and protein bars really speak to this trend and growth, even though we don't think of them this way. They're designed to be the perfect on the go refuel!
3. Ecommerce: We'll see growth in ecommerce flexible packaging related to application customization. The major drivers—"frustration free" packaging and "ships in own container"—enhance the consumer experience and they're going to drive flexible into applications where it has not historically been. We're seeing things like using shrink wrap over a primary packaging box instead of a second box, and products traditionally packaged in clam shells and a secondary shipping box transitioning to an easy-open, abuse-resistant, and tamper-evident pouch or other primary package format.
The sustainability benefits of lighter weight flexible packaging will also come into play in ecommerce. Converting to flexible packaging can reduce material costs, shipping costs and ease logistical challenges. These take cost out of the supply chain for the retailer and the shipper and may in turn lower the retail price for the consumer. Products which needed to be merchandised for the retail environment don't have the same requirement when sold online, which allows for different package formats and branding.
Ultimately, the result will likely be convergence, where one package format and structure can be used for both brick and mortar and ecommerce sales. These packages will incorporate the performance and aesthetic requirement of both sales channels, and offering an overall cost advantage over multiple stock-keeping units (SKUs) for identical products.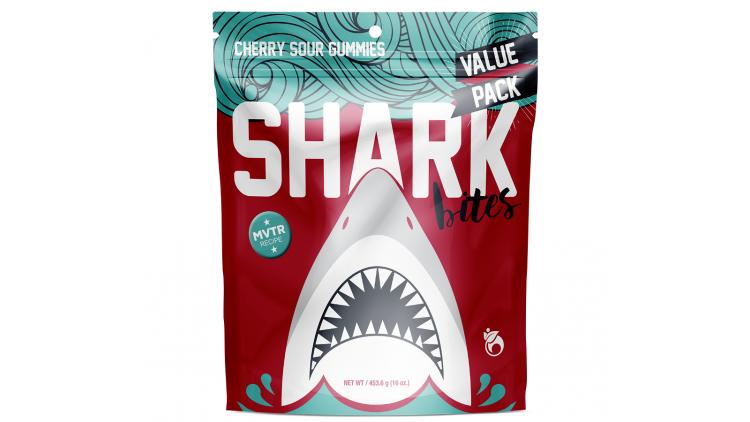 What, if anything, is different about the sustainability message of flexible packaging today versus, say, two or three years ago?
Quinn: We see a couple of different perspectives on this. First is the messaging opportunity to consumers, which often takes center stage. However, communication within the industry is also essential to developing and commercializing more sustainable packaging offerings.
Consumer messaging: Today, sustainability is a true driver of packaging innovation, where just a few short years ago it was just a buzzword. Again, shifting demographics come into play. Younger generations have a less positive perception of plastics, and sustainable packaging is an imperative to appeal to these consumers. Programs like How2Recycle label are helping consumers understand flexible packaging recycling options, and enabling brand owners to showcase package recyclability, educate consumers and ultimately drive up collection rates. Industry associations are also starting to step up with concerted efforts to promote the benefits of plastics over alternative materials, counterbalancing some of the anti-plastics sentiments we all see in the media.
Flexible packaging sustainability messaging is also focused on reducing waste in general. Newer technologies are enabling downgauging and related benefits in flexibles that reduce material consumption and waste. These packages also play a role in reducing food waste by extending shelf life and reducing spoilage from leakers and other package breaches. As a result, the messaging now is around the positive influence flexible packaging has on sustainability in the entire value chain.
In short, the message is changing. Sustainability is driving action and resources for all of us in the broader plastic packaging industry.
Within the industry: Sustainability is both a challenge and an opportunity throughout the value chain. We can't find optimal solutions in isolation; we are all interdependent and must collaborate to develop the environmentally responsible packaging that consumers and brand owners are demanding. More and more industry players understand the sustainability opportunity today, and they understand that how we talk to each other about it is essential, as it influences how quickly and even whether a lot of innovation happens.
Also, no discussion of the sustainability of flexible plastics would be complete without noting the impact of China's National Sword initiative. This initiative is increasing the amount of recyclable materials that need to be consumed domestically by a huge percentage. We're going to have to think differently about how to expand the profitable uses of flexible recyclables to consume those additional materials.
https://www.packagingdigest.com/flexible-packaging/how-flexible-packaging-trends-are-shifting-and-why-2018-08-29