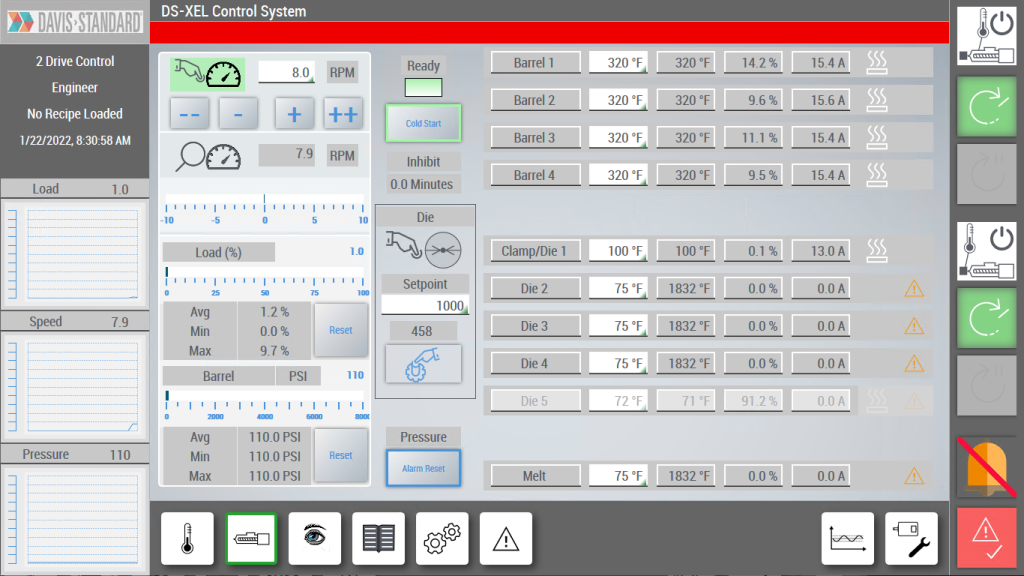 Davis-Standard is pleased to announce the release of its DS-XEL control system. This system, which replaces mature discrete controls, implements high-performance HMI features to better facilitate the data and process information requirements of today's manufacturing environment. Attention is given to active functions for a better operator experience and improved connectivity. The DS-XEL will be the new standard control for Davis-Standard's Super Blue® and HPE extruder lines and is compatible with the DS Activ-Check™ cloud-based platform. It is also available as an upgrade to existing extruder controls.
"This controller merges the latest PLC and HMI offerings to enable an operator-friendly package with greater attention to detail," said John Clemens, Davis-Standard's Director of Extrusion Controls. "It also incorporates key features only available with larger system controllers for troubleshooting and process improvement."
The DS-XEL provides on-screen graphic trending of essential extruder parameters, visually tracking temperature, barrel pressure, motor speed and motor load. Speed deviation from the setpoint is displayed along with extruder maintenance run timer and heater zone alarms, indicating deviation, process temperature, power failure, heater load and sensor break. The minimum, maximum, and average motor load is captured during each production run. Recipe creation and storage allows for repeatability of multiple products on the same line.
Other advantages include process alarm logging, real-time and historical data trending, auto and self-tuning of heat zones for quick die changes, and an on-screen display of individual zone heaters. In addition, the DS-XEL addresses connectivity requirements with a simple connection to ERP/MRP or upper-level supervisory control using a standard OPC-UA interface.
For more information about the DS-XEL or to get a quote, contact us here.