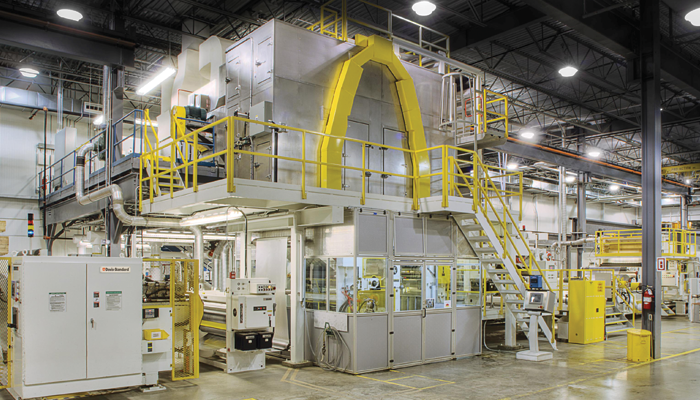 Davis-Standard will promote a range of equipment solutions for packaging applications at booth SU7473 during Pack Expo, September 27-29, 2021, in Las Vegas, Nev. Davis-Standard will highlight extrusion and converting platforms in cast film, blown film, extrusion coating, liquid coating, slitting, sheet, thermoforming, winding and unwinding. This includes the multi-layer film and winding technologies of Brampton Engineering, thermoforming expertise of Thermoforming Systems LLC (TSL), and slitter rewinders of Deacro; all Davis-Standard companies.
"We look forward to reconnecting with customers to discuss new innovations in packaging technology and how our equipment portfolio can address current and future goals," said Danis Roy, Davis-Standard's Vice President of Sales, Films and Flexible Packaging. "As manufacturers move toward evolving packaging formats, sizes and shapes, factors such as line speed, better equipment designs for new structures, and minimized waste are even more important. As the leading OEM for extrusion and converting markets, we collaborate with customers to address their specific packaging objectives while helping them increase production rates, lower total costs, and address sustainability and circular economy objectives."
Davis-Standard equips packaging customers with total solutions, extruder through downstream equipment. This includes a range of process control options and feedscrews, and a robust aftermarket and 24/7 service program. Performance machinery for both flexible and rigid packaging is available under one umbrella along with R&D capabilities for lab trials to qualify equipment and processes. Whether it is developing a proprietary coating method, attaining specific film properties, improving web handling or winding speed, or maintaining a consistent thickness for foam and sheet products, Davis-Standard offers the technical knowledge and industry leadership to support packaging quality, sustainability, and profitability.
Specific to each process area, Davis-Standard offers custom and standard engineering options. Examples of high-demand application areas Davis-Standard supports include:
Cast film: High barrier, hygiene, protective, stretch, fluoropolymer, and TPU films
Extrusion Coating: Flexible packaging, aseptic packaging, fabric coating, board coating, paint protection, and specialty films
Liquid Coating: Battery separators, window/paint protection film, specialty and silicone release liners
Unwind/Winding and Slitting: Large range of inline and offline options for diverse applications
Sheet/Thermoforming: Foam, flexible, rigid, and thermoformed sheet for heavy-gauge, high-density PE, low-density PE, PMMA, PS, ABS, PET, high barrier, and high-temperature applications
Blown Film: Industrial films and bags, barrier films, can liners, laminating films, stretch films, agricultural and membrane films, food packaging
For more information about Davis-Standard's packaging capabilities prior to the show, visit www.davis-standard.com/market_solutions/packaging/. To schedule an appointment for the show, contact us today.