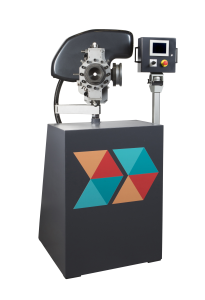 Davis-Standard will showcase elastomer solutions and support services at Booth #1533 during the International Elastomer Conference, October 4 – 7, in Pittsburg, Penn. Davis-Standard's new Model 4000AG fully automated crosshead for elastomer hose applications will be exhibited along with the company's DSREV extruder, and Uth roll-ex® gear pump/strainer system with a two-roll feeder (TRF). An aftermarket representative will be available to discuss feedscrew services, spare parts, extruder rebuilds, process control upgrades, and other options for improved processing. In addition, Davis-Standard will discuss the technical cell at its facility in Pawcatuck to support R&D for hose, automotive seals, and architectural applications as well as processes requiring in-line straining and pressure stabilization.
The Model 4000AG is based on Davis-Standard's successful fleet of manual Model 2000, 3000, and auto 3000A crossheads. This latest design provides closed-loop, stepper-driven automatic control of tube concentricity and wall thickness in a hands-free, low-maintenance package. Hose producers can improve product dimensional qualities while safely increasing material savings during start-up and product size changeovers. More consistent hose, minimized scrap, and ease of operation all equate to considerable cost savings and safer manufacturing practices. The Model 4000AG is also beneficial from the perspective of operational safety and user-friendliness. For concentricity adjustment, operators use a joystick instead of wrenches. Wall thickness modifications are stepper-driven, eliminating the need for hand tools and intrusive thickness measuring devices. The crosshead also features an HMI touchscreen interface to streamline functionality and operation. Many existing Model 2000 and 3000 heads can be retrofitted to take advantage of the Model 4000AG automated design features.
The DSREV extruder is Davis-Standard's flagship design. It is a preconfigured machine with feedscrew and head zone direct-injection temperature control units, a compact base, and simplified cooling and wiring systems. Other advantages include touch-screen controls, process data acquisition, and easily accessible machine components.
When this technology is coupled with the Uth gear pump, processors can isolate high pressure and achieve pressure stabilization. The gear pump is equipped with a Uth two-roll feeder (TRF) to be used as a stand-alone device for fine mesh straining or for cold feeding. Other advantages include improved filtration, reduced material retention time, and a small footprint for easy integration into existing lines.
For more information prior to the show or to schedule an appointment to meet with one of our sales team members, contact us today.