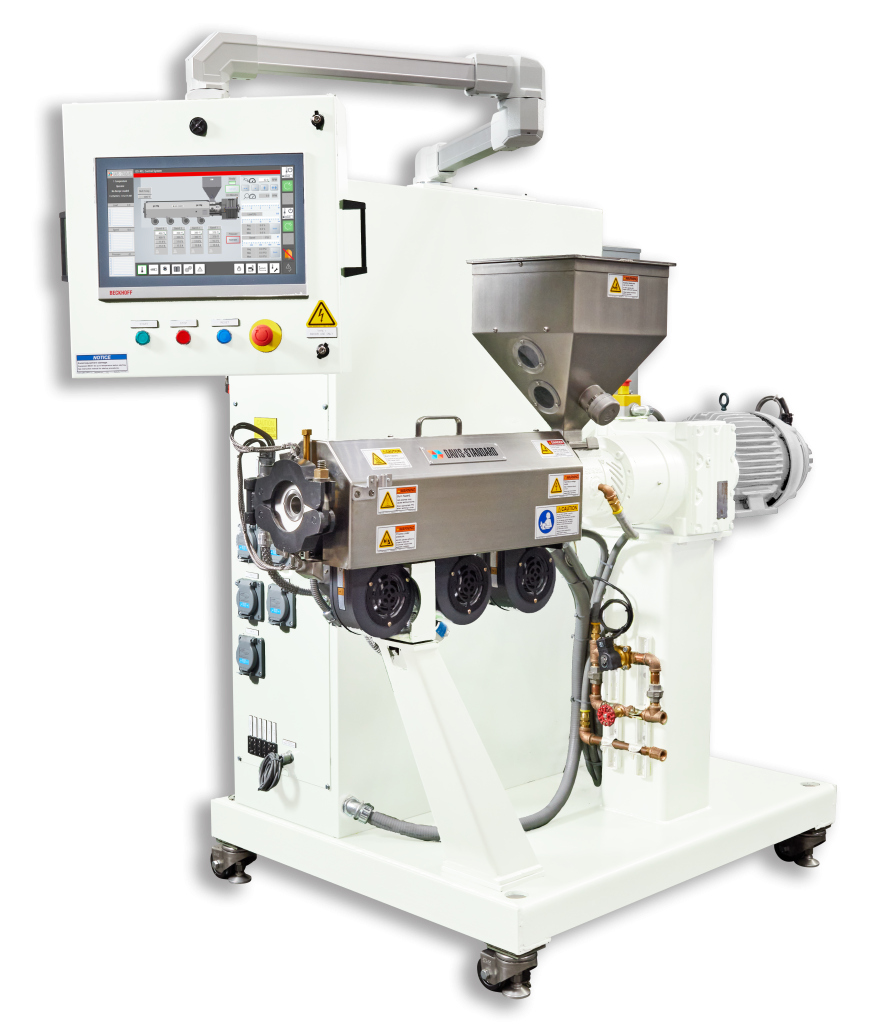 Davis-Standard's medical extrusion expertise and customer-centric approach will be promoted during MD&M West 2023 at booth 3911, February 7-9, in Anaheim, Calif. Show visitors will have an opportunity to view a running polycarbonate pipette line equipped with a Davis-Standard HPE (high performance) extruder and new DS-XEL process control. The line will also feature downstream equipment from the Conair Group and an OD/ID/Wall gauge system by Zumbach Electronics, both Davis-Standard technology partners. In addition, a 2.5-inch (50mm) Davis-Standard Super Blue® extruder will be displayed with DS-XEL controls, and customers can learn more about the company's DS Activ-Check™ cloud-based platform for preventative maintenance and monitoring.
The DS-XEL, introduced last fall, implements high-performance HMI features to better facilitate the data acquisition and process information required for today's manufacturing. Processors benefit from built-in security to prevent unauthorized changes to system set-up parameters, multi-language support, process alarm logging, and real-time and historical data trending. In addition, visual attention is given to active functions for a better operator experience and improved connectivity. The DS-XEL is the new standard control for Davis-Standard's Super Blue® and HPE extruders.
Davis-Standard's HPE extruder will power the line. This extruder is available in an adjustable vertical or horizontal configuration in sizes ranging from ¾-inch (19mm) to 1 ¾ inches (44mm). A direct coupled motor and smaller footprint make this machine ideal for tight manufacturing spaces and clean-room environments. The HPE can be run as the primary extruder, or as a complementary extruder in a coextrusion arrangement.
The Super Blue® is easy-to-maintain, energy-efficient, and provides increased torque capacity for high-viscosity resins. It is available in sizes from 2 inches (50mm) to 4 1/2 inches (114mm) with a range of DSB® barrier screw designs and a three-year warranty.
"We continue to expand upon our medical tubing solutions targeted at energy efficiency, sustainable practices, and process versatility to address evolving resin and end-product requirements," said Kevin Dipollino, Davis-Standard's Senior Product Manager of Pipe, Profile and Tubing Systems. "We have had excellent feedback on the DS-XEL, and can engineer this system to accommodate our DS Activ-Check™ digital transformation tool in order to achieve overall equipment effectiveness (OEE)."
DS Activ-Check™ is gaining traction as a smart manufacturing solution due to its many advantages, such as real-time monitoring, predictive and preventative maintenance, process and equipment analytics, and multi-faceted team connectivity. Processors can apply DS Activ-Check™ to amplify production efficiency, easily connect and collaborate using smart devices and remote PCs, manage cloud-based data collection, improve operator productivity and safety, and accelerate service and support.
Davis-Standard provides multiple services aimed at strengthening product line performance. This includes die reconditioning, feedscrew replacement to boost outputs and material homogeneity, control system upgrades to enhance digitalization and product changeover, and more! Feasibility studies are available for existing lines to address outputs, resin changes, product development, and more. An extensive spare parts inventory and regional vendor network help minimize supply chain delays.
"Consistent product quality, sustainable manufacturing, and reduced waste directly impact the bottom line," added Dipollino. "Whether it's' medical tubing, medical packaging, materials for hygienic products, or other markets, we seek to deliver value-added equipment technology and timely aftermarket services to each of our customers."
Davis-Standard representatives at the show will include Kevin Dipollino, Justin McKenna, and Dr. Jason Baird. For more information about the show, visit www.mdmwest.com.
Click here to schedule an appointment with one of our representatives at the show!
Learn more about Davis-Standard's Pipe and Tube capabilities here.