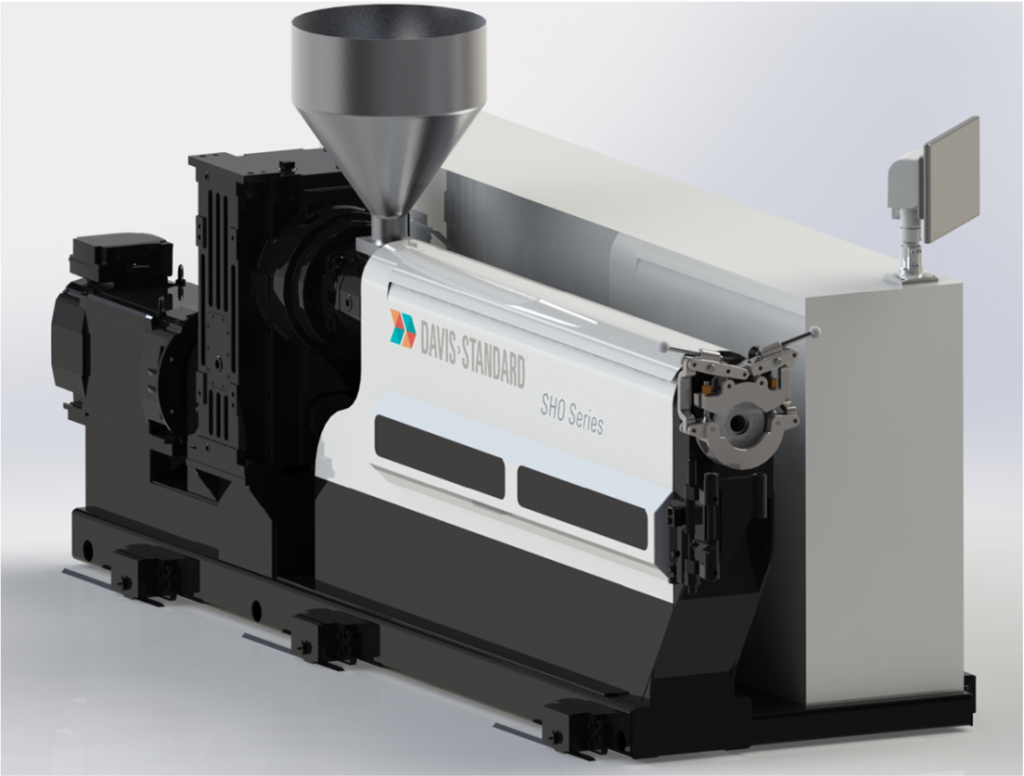 Davis-Standard, LLC will promote the company's full line of extrusion and converting technology during PLASTIMAGEN MÉXICO® in Mexico City, March 8 –11, 2022. Davis-Standard's team will be available at booth #2256 to discuss a range of technologies, including the new DS Activ-Check™, new CHP and SHO (Super High Output) extruder designs, the MEDD (Medical Extruder Direct Drive) extruder, film and sheet equipment, Maillefer pipe and tube solutions, and aftermarket capabilities. Davis-Standard supports a broad range of applications for customers in Mexico, Central America, South America and U.S., including agriculture, automotive, building and construction, consumer products, packaging, and medical markets. Following are technology highlights:
DS Activ-Check™ – Davis-Standard's Industry 4.0 platform for continuous monitoring, preventative maintenance and mobile alerts. DS Activ-Check™ uses analytical tools based on long-term cloud data storage, along with process and equipment technology algorithms, to help management and production teams identify and improve product quality and line productivity.
SHO Extruder – As the latest addition to Davis-Standard's groove feed product line, the SHO extruder delivers outputs 20 percent higher than existing groove feed models. Designed with a compact footprint, it is engineered with an improved feed section and high-performance, energy-efficient DSB® barrier screw. This is especially beneficial for high-viscosity HDPE applications such as pipe extrusion, where lower melt temperatures, reduced power consumption and improved energy efficiency are essential.
CHP Extruder – Davis-Standard's new extruder offers a space-saving coextrusion retrofit for extrusion coating applications within the U.S. and Mexico. With a smaller footprint and lighter weight to accommodate existing carriage or platform structures, the CHP addresses profitability factors such as raw material loss, improved outputs, and application flexibility.
MEDD Extruder – This compact extruder is built for cleanroom environments with a replaceable feed section liner and direct drive technology for greater efficiency and materials flexibility. Davis-Standard offers a high-tech melt pump system to maximize stability when processing sensitive materials.
Blown Film – Davis-Standard and Brampton Engineering supply extrusion systems for applications in high-barrier food packaging, agricultural films, geomembrane, stretch film, printing and laminating films, flexible packaging, collation shrink films, and stretch hooders. For films that require enhanced clarity and flexibility, Davis-Standard offers the Aquafrost® water-quench system. Other options include industry-leading Vector® air rings, DSB® feedscrew designs, Streamlined Coextrusion Die (SCD®), and Optiflow and Vertex dies, each designed to process specific films.
Cast Film – Davis-Standard supplies a broad range of solutions for cast films. The company's modular stretch film line for high-grade film operations, CPP film, and high barrier films production include a compact machine arrangement, ease of operation and servicing, excellent profile control, consistent roll quality, and an intuitive control package. Davis-Standard has winders to accommodate the specific needs for application designed to simplify packing and future automation.
Sheet Extrusion – Davis-Standard supplies complete systems and components to the packaging and industrial sectors. One recent development is the DS-Helibar® extruder. This technology has been shown to increase extruder output rates while improving energy efficiency and reducing barrel and screw wear. Other advantages include lower start-up costs, shorter residence time, and the ability to process higher regrind levels. Davis-Standard also offers thermoforming equipment for food packaging applications through TSL (Thermoforming Systems LLC).
Davis-Standard also recently introduced the XP Express®– AGT (Active Gravity Touch) roll stand for the full range of sheet and cast applications. The roll stand is available in three options depending on requirements. Each has a fully automated multi-roll gap nip, individual roll speed and temperature control, enhanced heat transfer, and an adaptable pull-roll design. This is augmented by a four-point Y-axis and traverse X-axis control to further support operator functionality. In addition, uniform cooling on both sides, double polishing capabilities, reduced web stress, and consistent web orientation and thickness control promote high-quality, flat sheet with desired clarity.
Maillefer pipe and tube systems – Maillefer's pipe and tube extrusion systems support markets encompassing medical, blown fiber micro duct, heating and plumbing, automotive, micro-drip irrigation, on- and off-shore flexibles, and other specialty and technical goods. These systems are engineered to provide value for multi-layer pipe constructions, including those used in blown fiber microduct applications such as FTTx data networks, heating and plumbing pipe, and multi-layer automotive tubing. This includes the use of recycled materials in eco-friendly pipe and tube products.
Aftermarket Capabilities – Davis-Standard's ability to service equipment for nearly every extrusion and converting application, including non-Davis-Standard brands, is one of the company's greatest advantages. This includes an extensive spare parts inventory, timely 24/7-customer service, global technical capabilities, and rebuild and retrofit services.
Have an inquiry or would like to schedule an appointment at the show? Contact us.