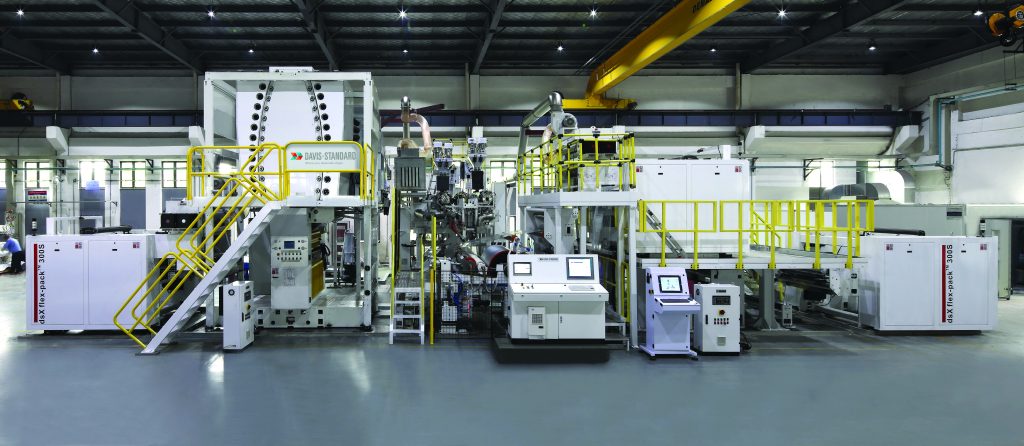 Equipment solutions for Asia's high-growth markets will be promoted by Davis-Standard, LLC in Hall 2.1, booth #F151 during Chinaplas 2022, April 25–28, in Shanghai. This includes technology in blown film, cast film, compounding/recycling, extrusion coating, foam, liquid coating, pipe, profile and tubing, sheet, elastomer, winding and unwinding. Davis-Standard will exhibit an HPE-075H 24:1 extruder, which is an example of the company's high-performance extruder range for coextrusion and multi-layer applications.
Davis-Standard's installed base in Asia continues to grow as do vertical opportunities in aftermarket upgrades and options that improve efficiency, performance, and long-term sustainability. Davis-Standard (Suzhou) Machinery has been central to all efforts in the region with machine building and assembly, inventory and aftermarket support, field service and installations.
Exhibit Highlights
Specific to pipe, profile and tubing, Davis-Standard will promote its MEDD and SHO extruders and Maillefer their product line supporting several applications.
The compact MEDD (Medical Extruder Direct Drive) is built with a replaceable feed section liner and direct drive technology for greater efficiency and materials flexibility. Davis-Standard offers a high-tech melt pump system to maximize stability when processing sensitive materials. It is ideal for medical tubing and industrial tubing applications that require a cleanroom environment.
The SHO (Super High Output) extruder is the latest addition to Davis-Standard's groove feed technology. The SHO delivers outputs 20 percent higher than existing groove feed models. It is engineered with an improved feed section and high-performance, energy-efficient DSB® barrier screw. This is especially beneficial for high-viscosity HDPE applications such as pipe extrusion, where lower melt temperatures, reduced power consumption and improved energy efficiency are essential.
Maillefer's pipe and tube extrusion systems support markets encompassing medical, blown fiber micro duct, heating and plumbing, automotive, micro-drip irrigation, on- and off-shore flexibles, and other specialty and technical goods. These systems are engineered to provide value that makes a difference. Blown film microduct destined for FTTx data networks, multi-layer PEX-AI-PEX composite pipe for heating and plumbing, and multi-functional tubing for automotive applications are examples of the production capacity available from the Maillefer portfolio.
In extrusion and liquid coating, Davis-Standard has demonstrated expertise in designing machinery for the circular economy. This includes mono-material structures, use of biodegradable resins, increasing recycled content, adding functionality with twin-screw technology, edge trim recycling systems, and energy-saving design features.
For extrusion coating, Davis-Standard collaborates with customers to address precision gauge control, splice speed, simplified changeovers, better adhesion properties, high-speed transfer, and operator safety. In liquid coating, the focus is on helping customers attain the right viscosity, emulsion, pH, and adhesive characteristics for their products. Applications include tapes and labels, silicone-coating products, paint protection films (PPF), and specialty coating markets.
Davis-Standard technology specific to the Asian marketplace is the dsX flex-pack™ 300S. This single station extrusion and lamination line is a collaboration between Davis-Standard's design teams in the U.S., Germany and China. The 300S can support web widths from 650 to 1,350mm and is engineered for processing rates up to 300 meters per minute for paper, film, and aluminum foils with direct gravure primer coating and coextrusion lamination stations.
Another example is Davis-Standard's new stretch film line with DS S3 winder. The line offers a compact machine arrangement, ease of servicing, excellent profile control, consistent roll quality, and an intuitive control package. It is engineered for producing thin films from 31 to 51-gauge (7.8µ to 13µ) at high speeds. The DS S3 winder enables maximum slit widths for hand wrap, machine wrap and jumbo rolls, supporting multiple market segments on one winder.
In sheet, Davis-Standard is excelling in high-output packaging, industrial thick sheet, appliances and medical markets. A new addition to Davis-Standard's sheet line-up is the XP Express®– AGT (Active Gravity Touch) roll stand for the full range of sheet. The roll stand is available in three options depending on requirements. Each has a fully automated multi-roll gap nip, individual roll speed and temperature control, enhanced heat transfer, and an adaptable pull-roll design. This is augmented by a four-point Y-axis and traverse X-axis control to further support operator functionality. In addition, uniform cooling on both sides, double polishing capabilities, reduced web stress, and consistent web orientation and thickness control promote high-quality, flat sheet with desired clarity.
Davis-Standard recently introduced the DS Activ-Check™, an Industry 4.0 platform for continuous monitoring, preventative maintenance, and mobile alerts. DS Activ-Check™ uses analytical tools based on long-term cloud data storage, along with process and equipment technology algorithms, to help management and production teams identify and improve product quality and line productivity.
For more information about Chinaplas and to add Davis-Standard to your show planner.