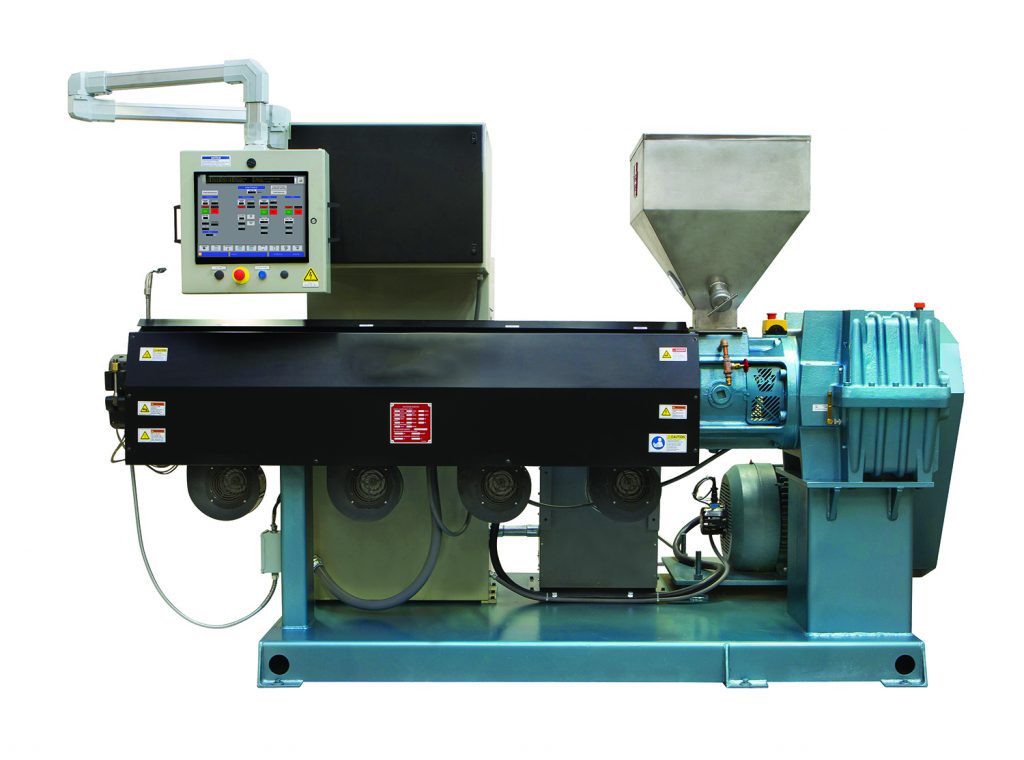 Davis-Standard, LLC will exhibit a running TPE tubing and ABS filament line at booth 4024 during MD&M West in Anaheim, Calif., February 11 – 13, 2020. The line will demonstrate processing versatility by running TPE tubing on the first two days of the show and ABS filament on day three. The line is capable of processing a variety of flexible tubing materials at speeds up to 300 feet per minute (91 mpm).
"This line is an excellent example of a space-saving system that can be used for both medical and industrial tubing. We have numerous larger scale lines like this one in the field, capable of running in excess of 800 feet per minute," said Kevin Dipollino, Davis-Standard's Sr. Product Manager of Pipe, Profile and Tubing Systems. "For purposes of the show, we want to demonstrate a smaller footprint and functionality for line speeds up to 300 feet per minute when space is a limiting factor. The line also features a turn sheave to enable processing at a 90-degree angle to accommodate additional space limitations such as those found in cleanroom environments."
Line components include a Davis-Standard 2-inch (50mm) Super Blue® Extruder with our e-TPC-II controls, a Guill spiral crosshead die and tooling, a Conair 12-foot multipass vacuum sizing tank, a servo puller and automatic and transfer coiler, and Zumbach OD/ID wall gauge and control system. The TPE material will be supplied by Teknor Apex. Davis-Standard has worked with Guill, Conair and Zumbach for many years to supply complete systems solutions to customers. The TPE tubing that will run at the show will measure 0.145" OD by 0.0108"ID and the ABS filament rod will be 1.75mm OD. Every line component is engineered for tight tolerances, consistent quality and output efficiency.
The DS-eTPC II control has become a popular option for medical tubing processors, adding flexibility to support more applications at an attractive price point. It has a larger 15-inch (380mm) viewing screen with multi-touch capabilities to enable zoom-in and out, as well as extruder control for up to three extruders with real-time and historical data trending. The DS-eTPC also has integration capabilities for vendor downstream equipment to enable communication and line control from one location. Other benefits include an increase of heat-only zones from four to eight, with an option up to 20; two auxiliary drives; a remote set-point; and speed trim via discrete inputs from gauging equipment.
Davis-Standard representatives at the show will include Kevin Dipollino, Dr. Jason Baird, Tyler McKenna and Glenn Beasley.
For more information about the show, visit: https://mdmwest.mddionline.com/.
To add Davis-Standard to your show planner, visit: https://ahm20.mapyourshow.com/8_0/exhibitor/exhibitor-details.cfm?exhid=S1000.
For more information about Davis-Standard's pipe, profile and tubing capabilities visit: https://davis-standard.com/extrusion_system/pipe-profile-and-tubing/.
Photo Caption: Super Blue® Extruder with our e-TPC-II. Advantages of this design include double reduction gearboxes with helical carburized gears, an integral high capacity thrust bearing, cast iron feed section, bimetallic barrel and heated clamp arrangement, DSBM-T™ barrier mixing feedscrew and integrated control cabinet.