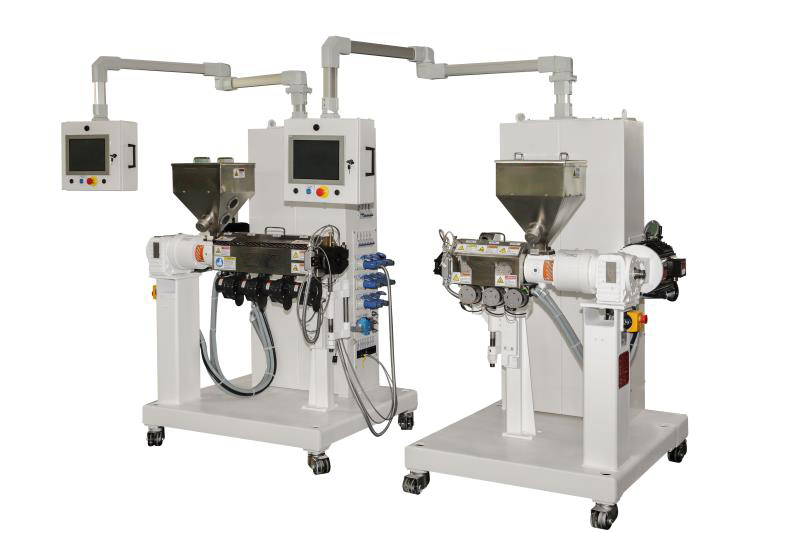 As global demand for medical tubing applications continues to grow and technology requirements evolve, Davis-Standard offers processors some of the industry's most robust and reliable equipment options. This is supported by a comprehensive approach whereby every extruder and every system is backed by in-house R&D and responsive customer service. This includes technology from Maillefer, A Davis-Standard Company, and global support from Davis-Standard subsidiaries such as Davis-Standard (Suzhou) Plastics Packaging Machinery Co, Ltd.
Davis-Standard supplies medical tubing systems with extruder output ranging up to 600 pounds per hour and line speeds up to 900 feet per minute (275 mpm) for numerous materials including FPVC, polyurethane, nylon, PEBAX and FEP. Applications include microbore tubing, Alternate Polymer®, multi-lumen catheter tubing, endotracheal and tracheotomy tubing, Radiopaque striped tubing, fluid delivery and drainage tubing, bubble tube with funnel, taper tube, cannula tube, pipette tube and multi-layer tubing among others
Maillefer also offers single-layer soft PVC tubing lines as well as medical fluoropolymer lines. High-speed extrusion for soft PVC medical tubes is engineered for various grades of medical PVC and for dimensional stability of tubes. Customized lines for FEP tubing and special polymers give processors ample options regardless of application. Maillefer also offers a coiler, the KWA, for medical tube winding applications. This fully-automated coiler is designed for performance, precision and cleanliness. The unit, which features precision machined parts and two stainless steel turrets keeps pace with lines running at speeds over 900 feet per minute (275 mpm). It can wind medical tubing into coils up to 24 inches (620mm) in diameter.
Davis-Standard medical tubing systems are built around high-performance extruders. These include:
The MEDD Extruder –The small-footprint, direct-drive MEDD offers versatile capabilities for a full range of product development. It is available in sizes ¾-inch (19mm) and 1-inch (25mm) and uses a direct drive motor, no gear box for clean room applications.  Other advantages include interchangeable barrel assemblies, linear machine movement and a replaceable feed section liner.
HPE-A and HPE-H Extruder – These extruders, available in ¾-inch (19mm) to 1 ¾-inch (44mm) also feature a small footprint. The A (adjustable) model uses a direct couple motor and the extruder swivels on a column to enable positioning at any angle. Vertical adjustment is possible by means of a lift screw. The H model has a fixed horizontal centerline and both models offer increased torque capacity to handle high-viscosity resins.
The Super Blue® is available from 2 inches (50mm) up to 4 ½ inches (114mm). Advantages include double-reduction gearboxes with helical carburized gears, an integral high capacity thrust bearing, integrated control cabinet and the DSBM-T™ barrier mixing feedscrew. It is also pre-engineered for fast delivery. To further support precision extrusion, processors can add a melt pump to these extruders. The Davis-Standard melt pump features a precision AC vector or servo drive system; precision gear reducer and drive motor.
Davis-Standard offers processors the unique option of testing equipment prior to purchase. The company's Technical Center in Pawcatuck, Conn., is equipped with numerous extruders, as well as an R&D line in a cleanroom environment for end-product development of tight tolerance tubing. Customers can test new resins, make parts for proof-of-concept, and conduct downstream R&D. The line, which is in a dedicated, climate-controlled area, is equipped with two MEDD extruders as well as Davis-Standard's patented Alternate Polymer® process technology and EPIC III® control system.
The R&D lab in Suzhou features a multipurpose microbore tubing line for medical application trials and development. It is engineered for single or dual-layer tubing as well as single-lumen tubing with or without a stripe. The line is equipped with two extruders, an OD/ID wall thickness measuring and controlling system, closed-loop control via a vacuum sizing tank and puller, and a high-level central control system.
As with every Davis-Standard product line, medical tubing customers can take advantage of 24/7 emergency support, equipment upgrades, expedient spare parts delivery and on-site support.
To find out more about how Davis-Standard can support your medical tubing applications, visit https://davis-standard.com/extrusion_system/pipe-profile-and-tubing/. 
Photo Caption: HPE Medical Series 38mm & 25mm extruders for multi-layer tubing applications. Independent touch-screen controls and modular base permit extruders to be relocated as required to alternate extrusion lines to integrate with in-line or cross-head tooling applications.