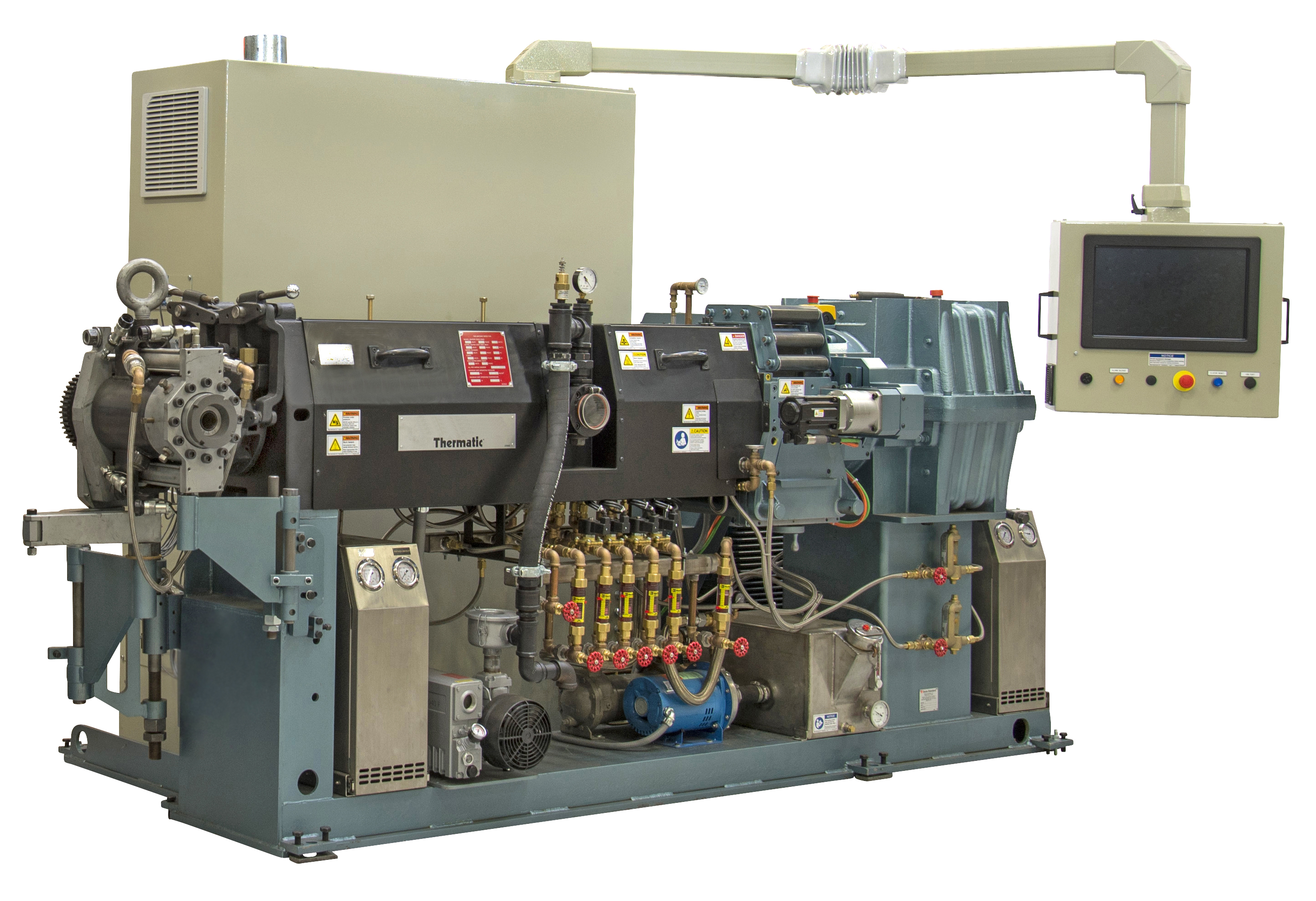 Davis-Standard will be among more than 200 companies at the upcoming Rubber Expo, October 7-10, in Cleveland, Ohio. Davis-Standard, Booth #1210, will promote extrusion equipment, feedscrews and controls as well as the company's DSREV extruder, Model 3000 crosshead and Uth roll-ex® 70 gear pump/strainer system with two-roll feeder (TRF). An aftermarket representative will be available to discuss feedscrew services, spare parts, extruder rebuilds, process control upgrades and other options for improved processing. In addition, Davis-Standard will discuss the technical cell at its facility in Pawcatuck to support R&D for hose, automotive seals and architectural applications as well as processes requiring in-line straining and pressure stabilization.
The DSREV extruder is Davis-Standard's flagship design. It is a preconfigured machine with feedscrew and head zone direct-injection temperature control units, a compact base, and simplified cooling and wiring systems. Other advantages include touch-screen controls, process data acquisition, and easily accessible machine components. The Model 3000 hydraulic crosshead reduces scrap and enables faster start-up times. This crosshead offers preferred features such as a tapered mandrel and highly engineered flow paths to ensure consistent flow through all speed ranges, as well as a thrust bearing on pin adjustment to adjust wall thickness without interruption.
When this technology is coupled with the Uth gear pump, processors can isolate high pressure and achieve pressure stabilization. The gear pump is equipped with a Uth two-roll feeder (TRF) to be used as a stand-alone device for fine mesh straining or for cold feeding. Other advantages include improved filtration, reduced material retention time and a small footprint for easy integration into existing lines.
For more information prior to the show, contact us or visit https://davis-standard.com/extrusion_system/elastomer/.
Photo Caption: Davis-Standard 3-1/2" 20:1 L/D DSREV (Davis-Standard Rubber Electrically Heated Vented) Multipurpose Extruder shown with our DS-eVUE touch screen process control system. Additional features shown include fully integrated closed-loop cooling system, Servo Driven feed roll option and Model 3000 Crosshead.