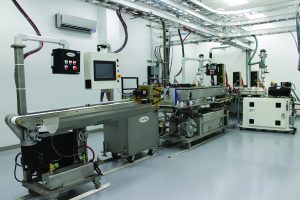 Medical tubing applications continue to evolve while also playing a vital role in the delivery of quality healthcare worldwide. As we've seen with COVID-19, single-use plastics have been important to every industry, but even more critical for medical applications. Tubing equipment options are vast and cost-efficiency is essential, requiring processors to plan ahead to achieve maximum ROI. In this blog, we will cover some of the ways Davis-Standard addresses important ROI factors, including:
Product versatility
Options for expanded capabilities
Precise and consistent product development
Cleanroom factors
Space limitations
Product versatility and being able to expand capabilities is essential in a high-growth market such as medical tubing. Equipment that supports efficiency, maximum line speeds, consistent and measurable quality, and the ability to process a wide variety of materials is typically worth the investment. For medical tubing manufacturers, materials can range from FPVC, polyurethane and nylons to PEEK and FEP. Davis-Standard can customize a tubing line based on customer application. Typical line speeds range anywhere from 100 feet per minute to more than 800 feet per minute depending on the materials, tubing application and requirements. Types of tubing applications include:
Microbore
Alternate polymer
Multi-lumen catheter
Endotracheal and tracheotomy
Radio-opaque striped
Cannula tube
Pipettes and
Multi-layer tubing compositions
Choosing the right equipment from the onset, including extruder design, control systems and feedscrews, is the best way to ensure a faster ROI. Timely upgrades can also offer a cost-effective option when needed.
As with any precision process where technology advances are made on a regular basis, it's important to have access to an R&D line. Testing new resins, making parts for proof-of-concept and conducting trials is paramount to maintaining a competitive advantage. It also helps validate processes before making equipment investments or going into large-scale production. Some companies have their own R&D capabilities. For those that do not, Davis-Standard has a dedicated medical tubing lab in a climate-controlled, cleanroom environment in their Pawcatuck, Connecticut facility. Customers can access the latest technology, extruder through downstream, to assist with R&D trails at a minimal expense.
Cleanroom factors and space limitations should also be considered to maximize ROI. Machine construction, machine surfaces and treatments, extrusion drive and control systems are all part of creating a hygienic environment. For example, Davis-Standard's MEDD extruder is a direct drive design eliminating the need for a gearbox and oil for cleanroom applications. It also allows for flexibility to change between a ¾- and 1-inch machine sizes using the quick-change barrel feature.
For tight spaces or where coextrusion capabilities are necessary, smaller machine designs that do not sacrifice torque and processing versatility are the way to go. In this area, Davis-Standard's HPE models provide high-torque and direct couple motors in a compact design. The HPE-A model has height adjustments and swivels and tilts on a column to be positioned at any angle, while the HPE-H is a fixed height horizontal extruder.
For resins that are especially challenging to process, Davis-Standard can integrate a melt pump into the control system to be coordinated with extruder pressure and speed, which provides a more stable output. In some cases, melt pumps can provide greater process control and can be sold and integrated on a line new or added at a later date if the customer changes materials or adds new material to be processed.
We hope you enjoyed learning how to maximize your ROI. If you have any comments or questions regarding this blog, comment below. If you would like to learn more about Davis-Standard's medical tubing solutions, please visit https://davis-standard.com/extrusion_system/pipe-profile-and-tubing/
Stay tuned for the next blog, Necessities to Keep the Clean Room "Clean".
As always, don't hesitate to contact our service team if you need assistance (844 MYDAVIS). Stay safe and healthy!
Cheers,
The D-S Connect Blog Team