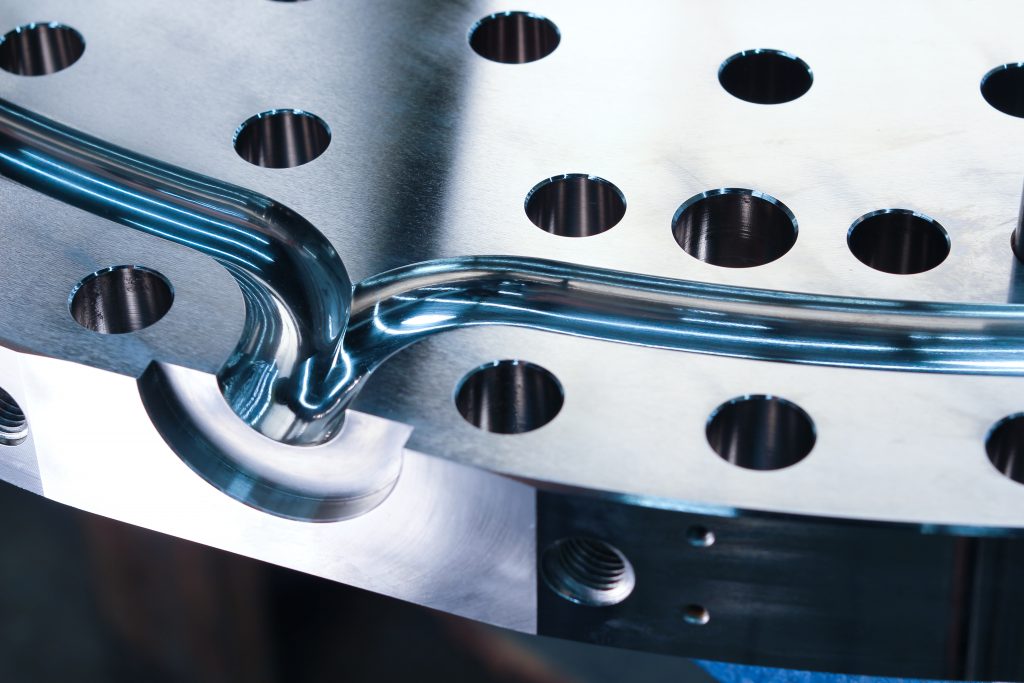 In this third blog post of our blown film series, Laura Martin, Director of Blown Film Technology at Brampton Engineering, discusses different blown film dies offered by Davis Standard and Brampton Engineering.
The coextrusion die is the heart of a multi-layer blown film system, where the layers of extruded polymers are brought together. After the die, the layers are stretched into the final film structure. Davis-Standard offers numerous die designs to ensure your blown film line has the die type best suited for your process. This could be a high-output Vertex, flexible Optiflow, extremely large Centrex, or highly versatile SCD® Streamlined Coextrusion Die. It could also be a dual, tri or quad die system.
To select a die style, first consider the number of layers and required die lip size. The minimum number of layers is determined by the most complex film structures to be made. Remember, you can always make a three-material film with a seven-layer die. The die lip size is a function of the film layflat width and the suitable BUR (blow-up ratio) range for the film structure and air ring. There is a maximum and minimum BUR, so it's important not to choose a die lip that is too large or too small for the range of layflat widths required. Once you know the number of layers and the die lip diameter, consult the chart shown here.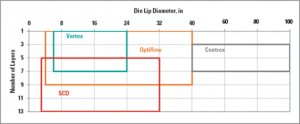 For monolayer to seven layers between 6 and 24 inches, the Vertex side-fed cylindrical die is a workhorse. This die offers high outputs by virtue of the large center opening that accommodates an insulated IBC to direct cool air to the inside of the bubble.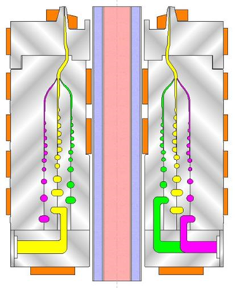 The center-fed design of the Optiflow and Centrex dies minimizes the flow path prior to the spirals, reducing resin degradation in larger dies with many concentric cylindrical layers. As long as the lip size is 20 inches or more, the IBC capacity is quite high. Optiflow is offered with one to nine layers and with die lips up to 40-inches. Centrex is designed for large agricultural applications requiring die lips up to 100 inches and with three to seven layers.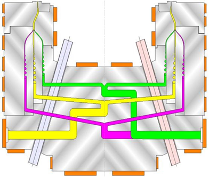 The Brampton Engineering SCD® Streamlined Coextrusion Die was the first pancake-style die. Introduced in 1990, it is side-fed with a large opening for IBC (like the Vertex), but the layers are stacked horizontally instead of nested concentrically. This design is advantageous because every layer has the same flow path length from entry to the co-extrusion chamber, and adding more layers is simply a matter of stacking more modules. Dies up to 13 layers have been run successfully. Layers can be added to existing dies to upgrade capabilities while protecting your existing die investment.
There are four types of SCD modules, most of which allow each die module to be set at the optimal temperature for the resin in that layer. This gives blown film processers a much wider process window to make complex coextruded films successfully. This is especially important for films incorporating nylon layers, as running these in a cylindrical die requires the entire die to be heated to the temperature of the nylon.
No matter the number of layers, the type of resins, output requirements or application size, Davis-Standard has a die platform for your process. This includes rotating or oscillating monodies and co-extrusion dies up to thirteen layers, and with die lip diameters from four to 100 inches. We can also upgrade the die technology on your existing lines regardless of the original manufacturer.
In our next blog post, we'll discuss what to look for in an air ring.
Do you have questions regarding this blog? Comment below!
Anything else we can help you with, please contact marketing or visit the Brampton Engineering blown film page for more info.
Cheers,
The D-S Connect Blog Team