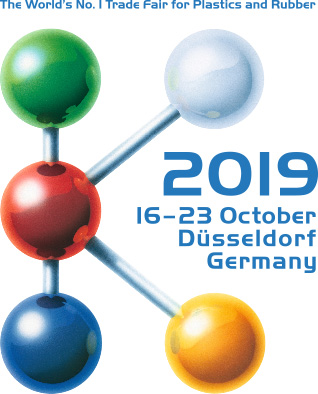 The world's number one trade fair for the plastics and rubber industry – K2019 – is just around the corner! Whether you've attended before or you're a first-time K-goer, there is A LOT to know before you go. We've called on the experience of our veteran teammates to help you navigate the show and get the most out of your experience. We'll be sharing key survival tips in a series of blogs. This first blog gets us started with 10 things to know as you prepare for this mammoth show.
1)  The K show, located in Dusseldorf, Germany, is the world's number one trade fair for the plastics and rubber industry.
2)  K lasts eight full days and is the longest-running tradeshow in the plastics and rubber industry.
3)  The networking is limitless. A total of 3,293 exhibitors from 61 countries and an astonishing 232,053 visitors were at the 2016 show.
4)  Safety first! Need medical assistance or have an emergency? This medical assistance link provides the contact information you need to ensure a safe visit.
5)  Transportation convenience – The most convenient way to get and to from the fair is by train. Here is how you get from point A to Z and everywhere in-between:
The central train station is situated in the city center. In the hall, you will find two mobile information stands of Messe Dusseldorf. During the trade fair, buses and the metro lines U78 and U79 run regularly between the train station and the exhibition center.
Information and reservation at the railway station: Tel: +49 211 11861
Timetable (auto announcement): Tel: +49-800 1507090
Deutsche Bahn AG
Tel: +49 0180 6 996633 (service number for the train)
Tel: +490180 6512512 (mobility service for barrier free travel
Address: Immermannstr. 65c, 40210 Düsseldorf
Website: www.bahn.de
6)  According to K2019 publicity, the show will represent the industry's entire production chain. This includes an international platform for experts in the plastics and rubber industries, representing automotive, packaging, E+E communication, construction, medical engineering, the aerospace sector and more.
7)  Industry challenges being addressed will include topics such as proper disposal and re-use of polymers; plastics and rubber processes for creating new, high-quality products; sustainability; Industry 4.0.; system integration; and strategic promotion of young professionals.
8)  E-tickets for K are less expensive than tickets purchased at the show. These also allow FREE use of public transportation (with K Fair badge) to and from the show within the Rhine-Rhur regional network of Dusseldorf.
9)  Attend! A whopping 96 percent of visitors were satisfied with their experience at K2016. If you don't have plans to attend, you should rethink your plan.
10)  Did you know there is a hotel-ship? This is a great way to stay and network with those attending the show. They are still taking reservations.
We'll continue with our K blogs, while also wrapping up our Feedscrew and Barrel Maintenance Series with a final blog on purging.
Do you have any interesting facts we didn't share above? Please comment below, we would love to hear from you.
If you have any quesitons please e-mail marketing at marketing@davis-standard.com.
Cheers,
The D-S Connect Blog Team