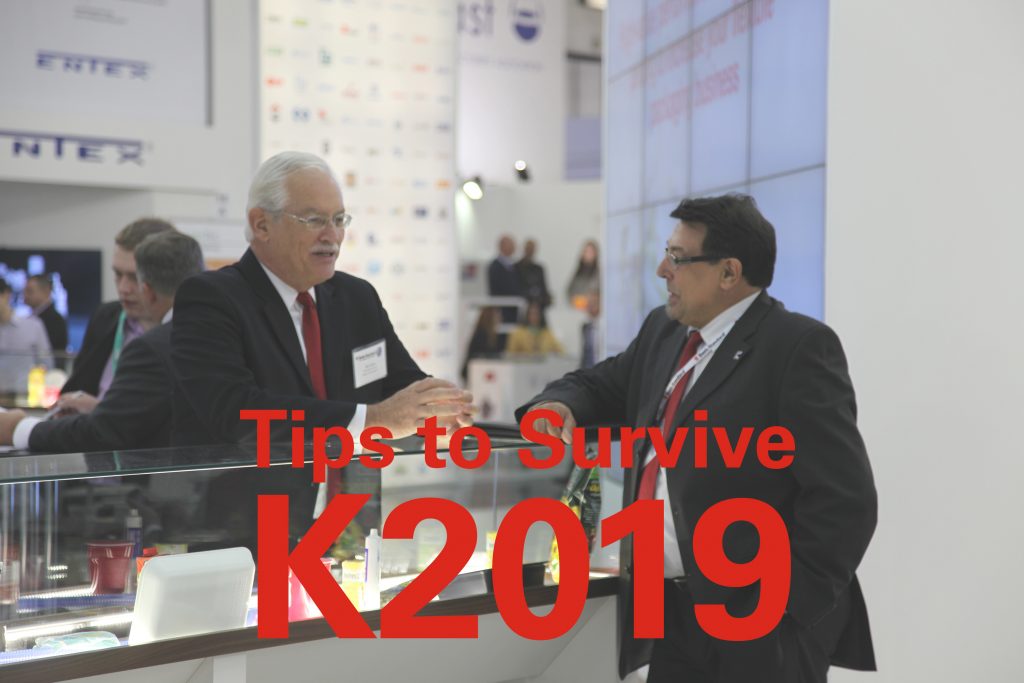 K is the longest-running tradeshow show in our industry; eight days! While this provides ample networking opportunities, the long days merged with late nights of dining and entertaining colleagues, suppliers, vendors, customers and others can quickly take its toll. By the end of day three you may be asking, "How in the world am I going to survive five more days of this?"
Never fear! Our K fair veterans have compiled a list to help you survive the K fair marathon and get across the finish line in good shape.
1.  Treat yourself to some relaxation. Did you know K2019 offers shiatsu, acupressure and massage? For more information, visit here.
2.  Take a night or two off! While it's tempting to participate in something every evening, we recommend taking a few nights off to catch up on some extra z's (sleep). Your body and mind will thank you.
3.  Be nice to your feet. We recommend shoe inserts and foot powder! (Shaq likes Gold Bond.) DO NOT under any circumstances save new shoes for the exhibition. Blister city! You should be breaking in a new pair of shoes (or two pairs) now.
4.  Bring a spare belt. Be warned…eating good food, including many Schweinshaxe at the Zum Schiffchen expands your stomach. Two to three inches have been recorded in the first three days! At past exhibitions, the "belt repair clinic" has been a hotbed of activity for repairing buckles and adding belt holes. A larger belt is a good fallback.
5.  Carry a sewing kit. As with an expanding waist, shirt buttons may begin to pop! A sewing kit with spare buttons is cheap insurance.
6.  Pack supplemental vitamins. Boost your immunity with vitamins C, B6 and E.
7.  Hand sanitizer. Need we say more?
8.  Include face cloths for showering. Most hotels in Germany do NOT supply these and they are nice to have after a long day.
9.  BEWARE: injection molding samples. You will be tempted by Darth Vader masks, plastic chair parts, and others partly or fully built home components. Just remember, you will be carrying these around in crowded halls along with bags of literature weighing as much as a small elephant. Then, you'll have to buy another suitcase to take them home. We suggest traveling light and avoiding the cool samples.
10.  Walk to the show. If the weather is nice and your hotel is close, take the opportunity to walk to the show. It's good exercise, clears your head from the night before, and gives you time to prepare for the daily grind.
11.  SECURE YOUR PASSPORT AT ALL TIMES. A replacement passport will take at least one full day, discussions with multiple people, and give you one heck of a headache. Knowing where your passport is at all times is essential! Just in case:
Have a copy of your passport ID page in your bag/briefcase which helps with the lost/stolen process and still presents a form of ID.
Snap a photo of your passport on your phone.
Report stolen passports to local police.
Report misplaced passports to your embassy or consulate.
12.  Be aware of your surroundings. Crowded venues and public transport are prime areas for pick-pocketing and credit card scanner theft. Also, never travel alone if you don't have to. "Buddy-up" as we say to our kids.
13.  Carry some Euro coins. Take care of the restroom attendee.
14.  See the sights! Hofgarten Park is recommended for a quick run or walk through the upscale Königsalle for some window shopping. The Hafen Harbor District has some good and modern restaurants. The walk along the Rhine from the show to Altstadt makes that first beer all the more worthwhile!
15.  Enjoy German beverages. You must drink Killepitsch while in Dusseldorf (a local herbal liquor). The local beer in Dusseldorf is Alt. It would be blasphemous to order a Kolsch (the beer from Cologne; neighboring and rival city). But if your hotel is in Cologne, don't dare order an Alt. It gets complicated…
16.  Be prepared for the weather. Mid-October in Germany can deliver the unexpected, so pack accordingly. Most veterans ponder whether to bring the umbrella or not on a daily basis. If you don't like getting wet, bring the umbrella.
 17.  Don't forget your favorite pain reliever. Advil® and Tylenol® work well.
18.  When in doubt, ask a Veteran.
#welovethekfair
If you have survivor tips not mentioned here, comment below, we'd love to hear from you!
Any questions, e-mail marketing at marketing@davis-standard.com.
Cheers,
The D-S Connect Blog Team & K Fair Veterans