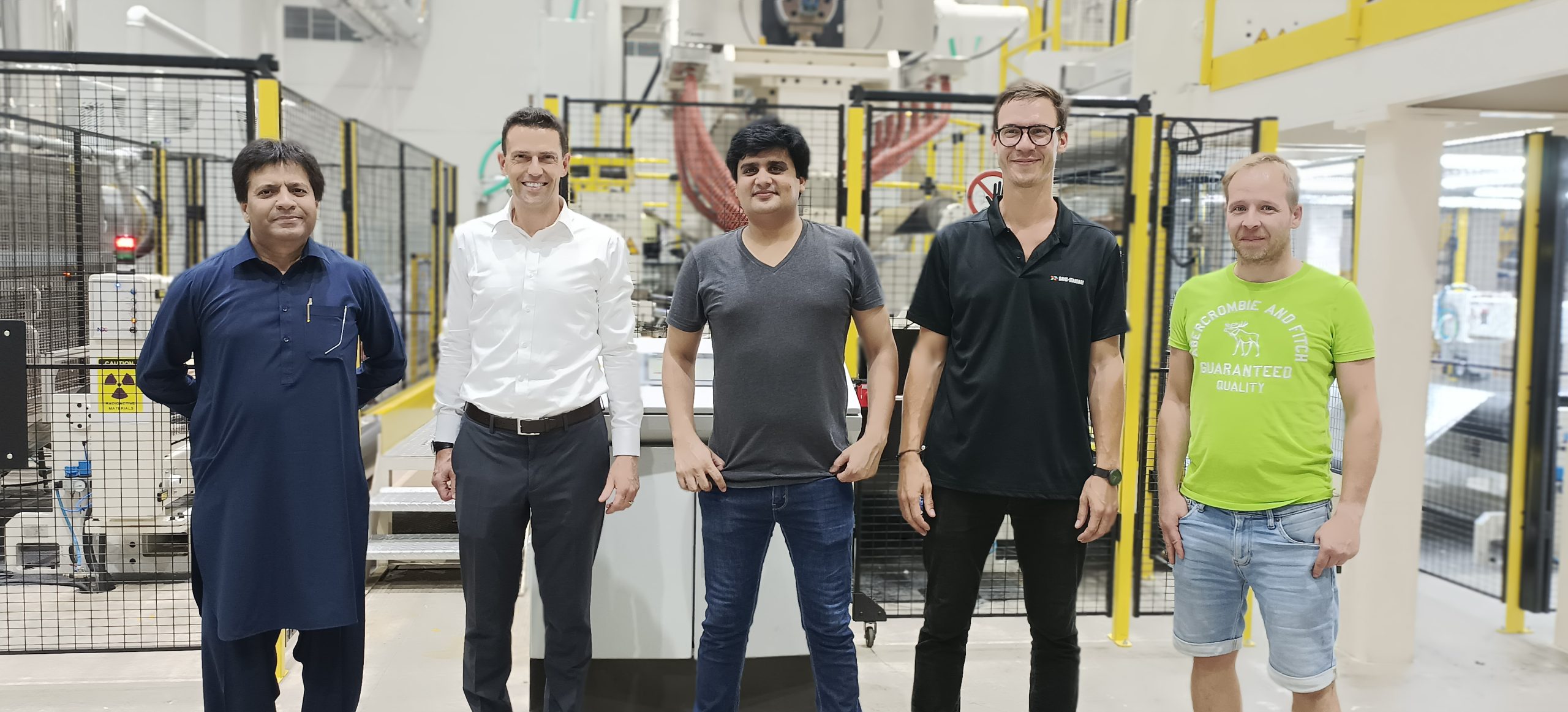 Popular Aseptic Packaging, one of Pakistan's leading packaging innovators, recently increased capacity with Davis-Standard's German subsidiary ER-WE-PA GmbH's installation of a dsX™ 400 aseptic packaging line. The all-in-one triplex extrusion coating and laminating line will support the company's production growth for a range of food and beverage applications. Popular Aseptic Packaging is known for their single window aseptic packaging for liquids, dairy products and paper cups. This is the company's first machinery purchase from a Davis-Standard company.
"We have been in the aseptic packaging business since 2012 and needed to boost production to address local demand and that of our international customers," said Junaid Malik, managing director of Popular Aseptic Packaging. "It was important for us to have a complete aseptic packaging solution that would provide an edge in terms of increasing quantity without compromising quality and customer satisfaction. Davis-Standard's name continually came up as having the best extrusion coating technology in the industry. After extensive research, customer reviews and detailed discussions, we chose the ER-WE-PA dsX™ 400 aseptic line. Davis-Standard's ER-WE-PA team in Germany did their best to complete the project on time and solve any issues related to equipment or the process, whether remote or in person."
Prior to this installation, Popular Aseptic Packaging had a production capacity of approximately 135 million packs of liquid packaging board per month. Based on increased line speed achieved during acceptance, Popular projects new line will increase that output by up to three times while supporting Popular Aseptic Packaging's strict quality standards and competitive market rates. According to Malik, the line's auto profile control die, online gauge scanner, and trim recycle system have already yielded advantages and cost savings. The die and scanner enable greater product customization, tighter tolerances and consistency for different layers, and the trim recycle system minimizes waste losses while reducing the company's carbon footprint. Currently, the line is running LDPE, ethylene alpha-olephin, and acid copolymers with plans to further extend the range of resins used.
"The product quality on the ER-WE-PA line has been exceptional along with beneficial features like higher speeds, tighter tolerances, equipment durability and calculated material consumption," added Malik. "We had some obstacles to overcome with pandemic restrictions over the past two years, but Davis-Standard's subsidiary supported us and navigated these challenges to complete the project. We especially appreciate the unconditional assistance and visit to our plant by Michael Krämer, managing director of ER-WE-PA GmbH and his associate, project manager Daniel Schiller. We look forward to ER-WE-PA's continued support with regard to equipment operation, maintenance, spare parts and global supply chain issues."
To learn more or inquire about our extrusion coating capabilities, contact us here.