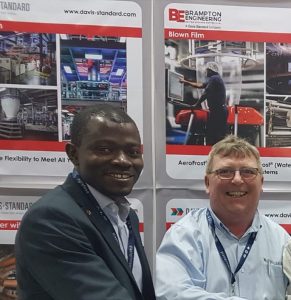 Davis-Standard is pleased to announce that Engineering Customer Centric Solutions (ENGICCS) Ltd. is the company's new sales representative in West Africa. ENGICCS is a global player in the design, development and distribution of innovative solutions for packaging film, polymer electronics and converting systems. As Davis-Standard's representative, they will be responsible for facilitating direct contact with plastics converters and stakeholders in West Africa to identify converting needs and market plastic packaging solutions throughout the region.
According to Dr. Anye Chifen, Managing Director of ENGICCS, "We look forward to increasing awareness of the Davis-Standard brand through strategic marketing avenues, while also providing more facetime with customers. A key part of our role in this region is to cultivate long-term partnerships and offer value-added solutions. This is an important step in gaining a greater understanding of customer needs and providing outstanding solutions to the industry."
Davis-Standard recently participated in the Nigeria Plastprintpack + Agro Food Exhibition in late March. The exhibition proved to be a timely opportunity to discuss Davis-Standard's solutions in flexible packaging and to learn more about Nigerian-based manufacturing companies. According to the National Agency for Food and Drug Administration and Control (NAFDAC) in Nigeria, the country's plastic and packaging sector has experienced substantial growth in recent decades from around 50 companies in the 1960's to more than 3,000 manufacturers today. Based on feedback from the show, Davis-Standard looks forward to supporting Nigeria's rapidly growing converting and extrusion markets, specifically in the area of packaging films.
For more information about ENGICCS, visit www.engiccs.com. For more information about Davis-Standard, visit www.davis-standard.com.