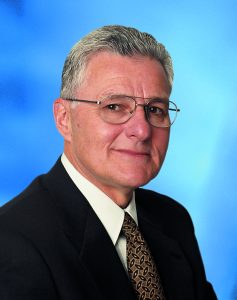 Davis-Standard is pleased to announce that Robert W. Ackley will be inducted into the Plastics Hall of Fame on May 6, 2018 during NPE in Orlando, Florida. Ackley, a 46-year veteran of Davis-Standard, was instrumental to the company's global expansion and success. He began his career in 1959 as a draftsman, moving through the company ranks to eventually serve as president until his retirement in 2005. He was involved with the industry's most prestigious associations in senior management roles, including as chairman of PLASTICS (formerly known as SPI) in 2000-2001 and as a board member of the National Plastics Center and Museum. He was also an active member of the Society of Plastics Engineers (SPE), the International Wire Association and the Plastic Pioneers Association.
"Being nominated to the Plastics Hall of Fame by those I worked with for many years and then selected by leaders within the industry is a great honor," said Ackley. "Plastics have done so much good for society. Witnessing the advancement of extrusion and converting technology and the progression of plastics into every facet of life has been incredible. When I first joined Davis-Standard, we were insulating wire and cable. By the time I left, we were in nearly every market. I am grateful to have had such a fulfilling career in such an innovative and life-changing industry."
Ackley's success story is one defined by hard work, company loyalty and steadfast leadership. When he started at Davis-Standard, he was right out of high school and attended college at night. He earned his degree in mechanical engineering from Mitchell College in New London, Conn., and an Executive MBA from the University of New Haven in New Haven, Conn. He had a thorough understanding of nearly every position working as a design engineer, group leader, technical engineering manager, field services manager, sales product manager and spare parts manager. He advanced to leadership positions in operations, engineering, research and development, and sales and marketing until he was named company president in 1983. A role he enthusiastically embraced for 22 years, making Ackley synonymous with the Davis-Standard brand.
"Bob Ackley was a terrific mentor and instrumental in making Davis-Standard an industry leader," said Jim Murphy, Davis-Standard President and CEO. "I am forever grateful to his team approach, the way he empowered employees, and his intuitive and smart business sense. He was exceptional at putting customers first and his door was always open. The impact he had on me personally, Davis-Standard's customers and employees, and the industry in general is far-reaching and much appreciated. Bob is a legend in plastics, which is why it is fitting for him to be a hall of famer! We extend our congratulations to him and his family, and look forward to celebrating this honor in Orlando."
For more information about Davis-Standard, visit www.davis-standard.com.