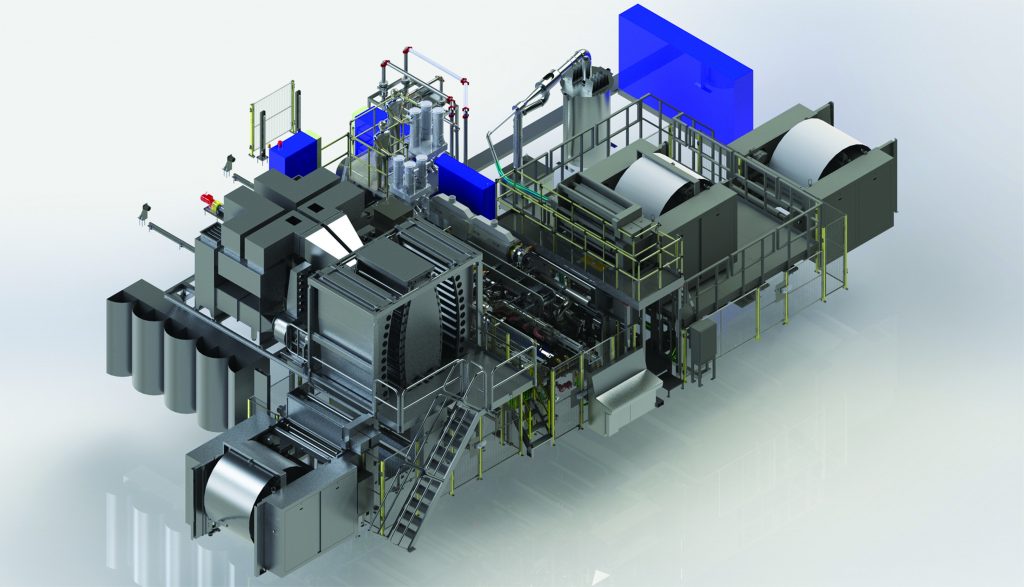 Davis-Standard will begin its 2020 tradeshow season in Moscow, Russia, at Interplastica, January 28 – 31. Located in booth #22C32, representatives from Davis-Standard's subsidiaries in Germany and the United Kingdom will be available to discuss technology for blown film, cast film, extrusion coating, foam, profile and sheet applications. The company will specifically focus on its dsX™ product line for packaging applications, which provides processing versatility, timely delivery and competitive pricing. Examples of this technology include the dsX™ 400 aseptic packaging line and dsX flex-pack™ 300S flexible packaging line. Davis-Standard will also promote its high output blown film capabilities.   
The dsX 400 aseptic packaging line is a pre-engineered triplex extrusion coating and laminating line for paper, aluminum foils and/or films used in aseptic packaging applications. It is designed for a working width range of 700 to 1,350mm, a mechanical design speeds up to 450 meters per minute, and processing speeds up to 400 meters per minute. This line is also equipped with automatic unwind and rewind splicers for speed and efficiency. This is a single-source system with Davis-Standard supplying extruders, feedscrews and extrusion dies to support customer requirements.
The dsX flex-pack 300S flexible packaging line is built for cost-sensitive flexible packaging applications. Proven components and a pre-configured, adaptable machine configuration make this system ideal for converters, printing companies, multi-national companies and start-ups. It can support web widths from 650 to 1,350mm and process line speeds up to 300 meters per minute for paper, film and aluminum foils with direct gravure primer coating and coextrusion coating lamination stations. Hallmarks of this line include consistent end-product quality, greater uptime and productivity, reduced waste and application versatility.
Davis-Standard supplies complete blown film systems to support monolayer processes as well as complex multi-layer applications with film structures up to 11 layers. Component upgrades are available to improve existing blown film production for lay-flat widths from one to 10 meters. Blown film systems feature the latest extrusion and screw technology, die and air ring developments, and options for film handling and winding to support optimal and cost-effective processing based on application.
For more information prior to Interplastica visit www.davis-standard.com.
PHOTO CAPTION: dsX flex-pack 300S