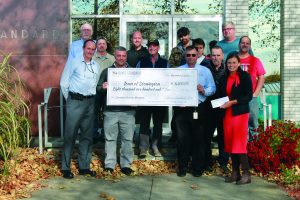 In recognition of Veteran's Day, Davis-Standard is pleased to honor 41 veterans currently working at the company by donating to the Stonington Veterans Monument Project. Davis-Standard is making a contribution of $200 per veteran for a total of $8,200. In addition, each veteran at Davis-Standard received an appreciation gift for their service to our country.
"We are grateful for the contributions of each Davis-Standard employee who has served our great nation," said Jim Murphy, Davis-Standard President and CEO. "Contributing to the Stonington Veterans Monument is a lasting way we can recognize those in our community who have given so much to protect our freedoms."
The monument will include the names of all Stonington residents who have served in the armed forces since WWI, encompassing over 7,000 individuals. The granite monument will be located on the grounds of the Stonington police station and will feature etched drawings. Visitors will be able to read the names of all veterans, including future veterans, using a smartphone.
For more information about the monument, visit https://www.stonington-ct.gov/selectmens-office/pages/stonington-veterans-monument-project.