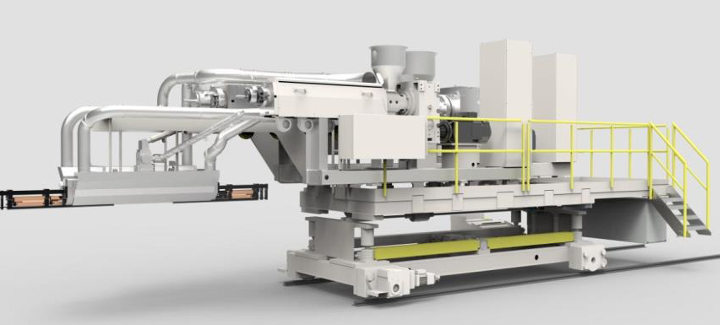 Innovation is essential in driving growth for the $22 billion global fabric coating market.  Applications encompass products we often take for granted including house wrap, fabric buildings, advertisement banners, aviation evacuation, waste management systems and reservoir liners. As the fabric coating segment continues to evolve, processors should be prepared to take advantage of the exciting opportunities ahead. This blog covers key machine design considerations to ensure quality products and flexibility to participate in growth.
Machine Design Considerations
First and foremost, it's important to understand the vital role each major component in a fabric coating line plays in ensuring a positive outcome. Extrusion system design is central in terms of polymers used, outputs, coating thickness, blending and drying. Co-extrusion arrangements allow for operational flexibility, which is significant as processors seek to expand their product offering. Roll and shaft handling influences diameters and cycle times during roll changes. Web handling capabilities determine line speeds and tension ranges.
When evaluating machine design, both product structure and output requirements must be addressed. This is especially important for high-volume applications such as lumber and metal wrap, house wrap and tarpaulines, and high-value engineered textile composites such as protective garments, footwear and evacuation systems. The following are guidelines to assist in assessing existing equipment and determining upgrades to support fabric coating processes.
Extrusion System
Polymers being used:

PE / PP blends vs. TPU / PA / TPO, etc.

Extrusion system features:

Extruder motor and gearbox ratio with correct torque to process a wide range of polymers
Screw removal features to minimize downtime during screw changes
Filtration requirement (breaker plate, hydraulic screen changer, candle filter)
Resin blending; in-line gravimetric vs. off-line batch
Resin drying; TPU and CaCO3
Extruder output range (do not oversize the extruder)
Polymer coating thickness range (evaluate die technology)
Roll and Shaft Handling
Cycle time and handling features:

No more than five changes per hour or every 12 minutes
Roll and shaft handing available
Shaft-less capabilities available

Tension control parameters:

Not to exceed 10:1 ratio between core O.D. and roll diameter

Minimum roll diameter requirement:

High-speed auto splicing requires 15 to 10 inches (380-500mm) per minute
Web Handling
Process speed range:

Tension control not to exceed 15-20:1 turndown ratio

Web tension factors:

Use the least amount of web tension to transport the web
Total web tension should not exceed 10:1 ratio
Minimum web width; concerns with bending web transport rolls
Two sets of load cells or web paths to assist in wide tension range
Web isolation units assist high process tension points

Web treatment:

Adhesion between the coating/substrate and substrate/ink via corona/flame/ozone treatment or pre-heat web to activate the primer
Use a web cleaner to remove dirt
Davis-Standard offers process optimization action plans by doing on-site audits to affirm customer confidence. Contact marketing if you wish to set up an appointment.
Do not hesitate to contact our service team if you need assistance (844 MYDAVIS).
Stay safe and healthy! For any other questions, e-mail marketing.
Cheers,
The D-S Connect Blog Team