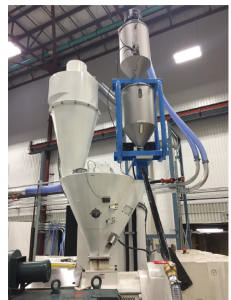 In the previous blog, we covered basic characteristics of low bulk density materials and common single screw extruder designs used in reclaim processes. This blog takes that a step further by delving into the benefits of feed-assisted single screw extruders, including a crammer feeder, ram stuffer and cutter compactor. Feed-assisted single screw options are a game-changer when bulk density is too low for gravity feeding or when dealing with problematic feeding material.
Crammer Feeder: This is the most basic of the feed-assisted single screw options. The crammer feeder has a unique hopper with a vertical auger to convey materials into the feed section. The hopper and feed auger are designed based on your specific material characteristics to ensure that the materials can be compressed and fed into the extruder. The downsides are that the feed opening is smaller, bulk density and feed geometry need to be in a narrow range, and the crammer is difficult to remove. However, this is an economical option for feeding a range of reclaimed materials.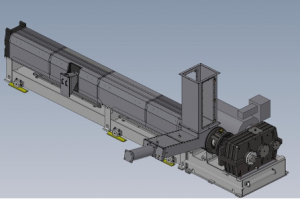 Ram Stuffer: This machine is engineered with a pneumatic ram assembly to push recycled material into the feedscrew. Grooves in the feed section enhance operation, and this design works with low or high bulk density materials. Advantages include low energy usage, simple device control, versatility to run just about any scrap material, and the ability to retrofit onto existing extruders with minimal rework.
The ram stuffer has a feed opening that is 12 to 14 times larger than a crammer. The pneumatically actuated ram does not have to be connected to extruder speed, can be retracted for high bulk density material, and can generate high pressure. When using the ram stuffer, remember that bulk density will affect the rate. For example, changing from a ground film to a uniformly shredded film can result in an output increase of 10 to 15 percent. Ram stuffers are also necessary when working with non-compressible reclaim materials like nylon fiber. Moisture content must be controlled to less than one percent for proper operation.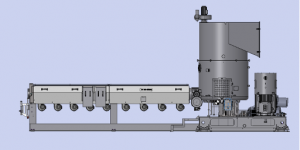 Cutter Compactor: As with the ram stuffer, this machine works well with low bulk density materials. In the case of higher bulk density infeed materials, accessory components may need to be added. Some size reduction can be achieved in the drum and shredded material from 2 to 4 inches in size can be fed. A significant bonus of this feeder is that it can accept feedstock with residual moisture up to eight percent. It is also PLC controlled to maintain consistent feeding, which minimizes product variation. The downside is that the drum requires relatively high power consumption.
With this design, material is fed directly into the cutting chamber via a conveyor. Slabbed or loose waste can be size-reduced by an adjacent shredder and conveyed to the drum automatically using logic to maintain consistent feeding. It can also be fed directly from an off-spec roll using a driven nip roll. Moisture is removed from the material in the compactor drum using mechanical energy and a blower. Temperature is regulated within the drum to ensure stable operation. Residence time is managed to optimize this process, and an auger feeds the densified material into the extruder at consistent rates. Higher moisture content will result in lower overall extrusion rates as the residence time in the drum is increased to ensure that moisture is controlled prior to entering the extruder.
Once you determine the right feeding mechanism, all other standard screw processes need to be addressed to ensure the best performance. These include melting, mixing, devolatilization, and pumping. Screw design is critical to performance and should be based on your materials and the final product.
Additives such as antioxidants, fillers, and colors need to be considered along with devolatilization (single vent or multiple vents), and filtration based on contamination levels.
We are happy to work with you to determine the most feasible solution based on your materials and applications. Contact us today for an evaluation.
Cheers,
The D-S Connect Blog Team