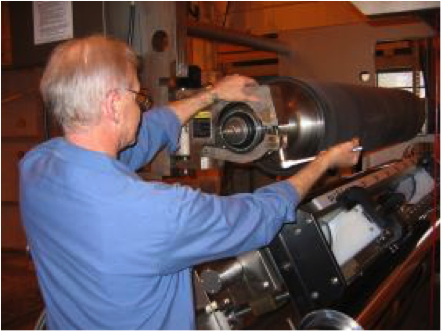 Part two of the chill roll series provides tips for care of rubber covered rolls as well as grinding and maintenance.
Care Of Rubber Covered Rolls
For rubber-covered rolls, special care is needed. Following are suggestions that will help protect the surface while enabling you to perform necessary maintenance.
Support rolls on their journals with covers free of all contact with other objects. The rubber will distort if you lay rolls on their surface. The "Flat Spot" or "Compression Set" caused by contact with another surface can create innumerable problems in machine oper­ation. Unless corrected by grinding, these rolls will not operate properly.
When the machine is down, open all nips so they will be free from contact with other surfaces. If your machine includes nips that close due to gravity, block these nips in their open position. Pilot-operated check valves are normally used in these cases to hold the nips open for an extended period of time.
To prevent oxidation, cracking or checking, keep rubber rolls away from steam pipes, boilers, dryers, and radiated sunlight.
When storing, wrap rolls in paper, pack in wooden boxes (preferably cases designed for rolls), and place in a cool, dark place. Rubber-covered rolls stored for long periods of time under certain conditions will show surface cracking or oxidation. Generally, this is only a surface condition and can be corrected with a light grind.
To correct checking or cracking of rolls caused by long periods of storage, re-grind or re-surface before using.
Re-grind rubber-covered rolls periodically to maintain maximum economy and quality.
When removing a roll from a machine, use (a) rope slings supported on the journals with wood blocks taking up the tension, or (b) wide belt slings balanced around the roll surface at the center.
Keep the roll surface free of machine oil and grease. If necessary, clean the surface with solvents for your particular roll covering.
Pack rolls safely and securely for shipment, whether for re-grinding or re-covering.
Inspect stored rolls periodically and rotate when possible.
Grinding And Maintenance Tips
Grinding should be done on a regularly scheduled basis.
To avoid the danger of damaging roll covers or removing too much covering, allow sufficient time for the grinding operation, taking light cuts on softer rolls.
If grinders are equipped with dust collectors, dry grind the roll; if not, use wet grind.
Select a grinding wheel of proper grit size and hardness; maintain proper tension on the wheel belt drive; and keep the carriage drive well-lubricated during grindings. We will be happy to recommend proper grinding wheels upon request.
During the grinding operation, the wheel should be properly dressed by using a black diamond, diamond tip or star dresser.
Remove enough of the covering to eliminate all cracks, corrugating and checking.
It's also important to note the cause of reduced roll life or inefficient operation. These include:
Incorrect crown, density or thickness
Failure to grind the roll periodically
Failure to grind the cover below surface checks, corrugations or cracked areas
Excessive or uneven operating pressure
Incorrect roll body design
Roll out of alignment, gears or other equipment in faulty condition
Failure to release pressure and lift the roll from the nipped position when not in operation
Roll covering not compounded for the specific position and condition
Incorrect use of solvents, foam killers, oils and other chemicals that may damage the roll covering
Continuing to operate a damaged roll
Allowing the roll to run out of balance
If you have any questions relating to this blog post, please comment below.
If you wish to inquire about our products and service, please email marketing@davis-standard.com.
Cheers,
The D-S Connect Blog Team