In many ways, your extruder is like the engine of your car. You need to keep it fine-tuned and operating at peak performance for best results and fewer breakdowns. When the engine runs well, you get the best mileage and reliability from your investment. Likewise, we want you to get the most from your extruder in terms of performance and durability.
In this blog, we once again delve into maintenance by focusing on the extruder. Our team has put together their top 10 tips for keeping your extruder in top condition.
Tip 1
Download the "Davis-Standard Quarterly Extruder Performance Checklist," and ensure your team is monitoring and maintaining your equipment in adherence to OEM standards.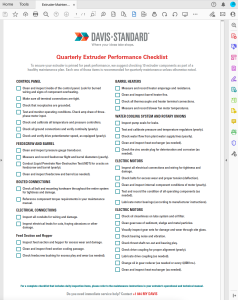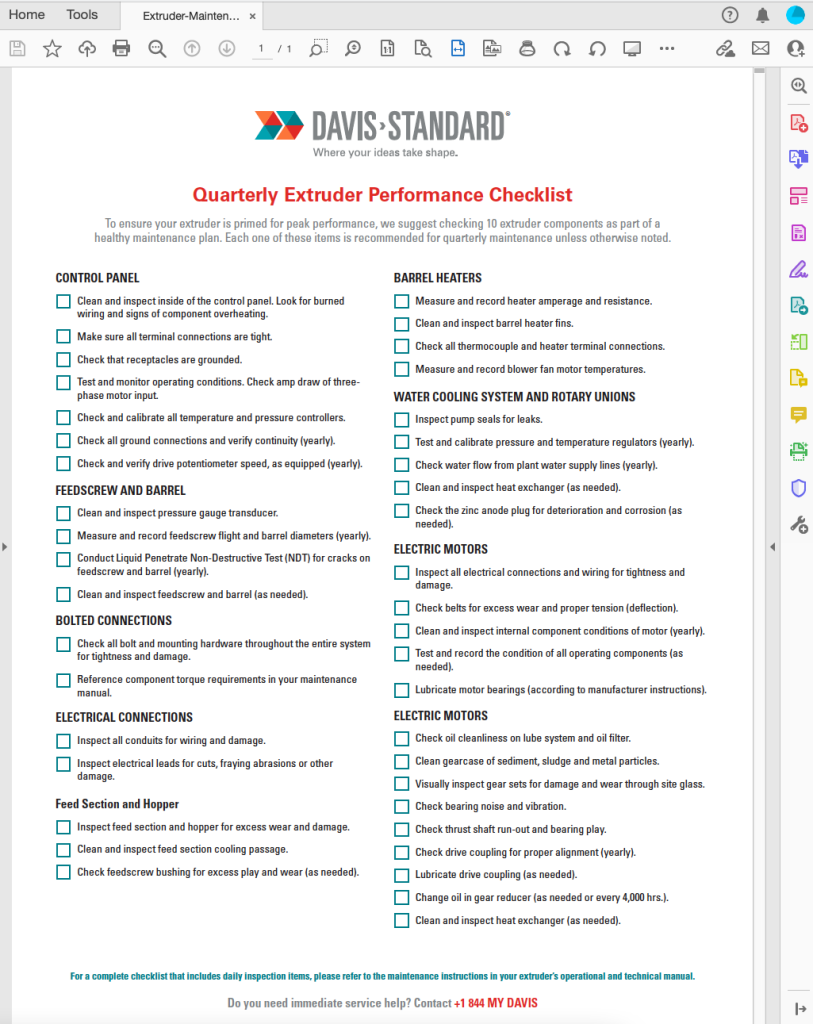 Tip 2
Monitor gearcase oil conditions weekly. Change the gearcase oil every six months or 4,000 hours of operation. For more information, check out these references:
GEARCASE OIL CHANGE INTERVALS
OIL SELECTION
FLUSHING THE GEAR REDUCER
Tip 3
Measure screw OD and barrel ID annually, and keep track of wear for ideal processing conditions. Your regional sales manager can advise you on wear concerns. Check out the screw wear guidelines here.
Tip 4
Check barrel heater bolts for tightness and correct heater contact every 12 months.
Tip 5
 Examine breaker plates and spacer rings for flatness before installation. Confirm there is a tight seal between the barrel and die.
Tip 6
 Make sure cooling water is piped and flowing to the feed section in order to efficiently convey pelletized material.
Tip 7
Inspect motor surfaces and air intakes to ensure they are clear of debris.
Tip 8
If you notice a significant performance decline and are seeking improved efficiency, it may be time for an upgrade. This can include control systems, dies, process modification, refurbishing the gearcase, and more. Contact your regional sales manager for details.
Tip 9
For advanced machine monitoring for predictive and preventive maintenance consider the DS Activ-Check™ system. More information contact us here. You can also watch the recorded webinar hosted back in October 2021 to learn more about how real-time monitoring assists operators in extrusion. Check out this on-demand webinar here.
Tip 10
Keep the 844-MYDAVIS magnet on every machine in your plant for emergency service and spare parts. We are pleased to send you as many as you need. Click here to receive your free magnet(s). You should receive your magnet(s) within 2 weeks.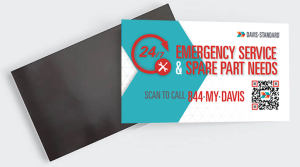 We are always here if you need us! For additional preventative maintenance questions, comment below.
Any other questions, e-mail marketing.
Don't forget to rate our blog. Your rating allows us to continually provide the type of content you like.
Cheers,
The D-S Connect Blog Team