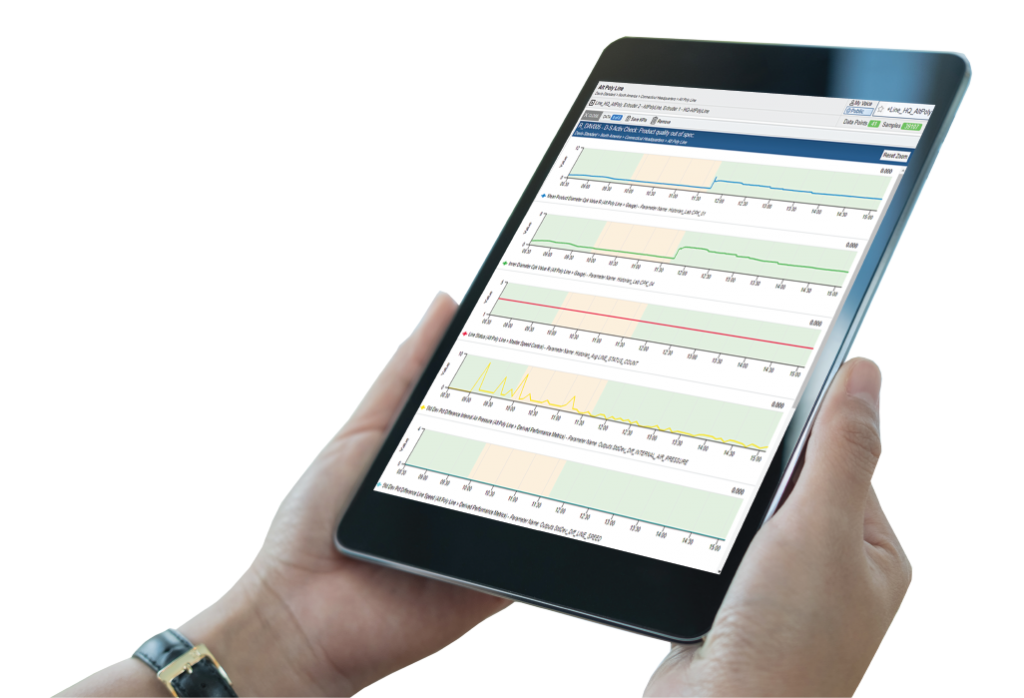 In this second blog of our digital transformation blog series, we'll explain the digital architecture of a cloud-based system using DS Activ-Check™ as an example and review its advantages.
DS Activ-Check™ is a custom-designed, cloud-based platform that improves your team's situational awareness to enhance extrusion production line performance and productivity.
DS Activ-Check™ leverages systems and strategies offered by the IIoT to increase operator effectiveness, leading to reduced downtime, better product quality, and reinforced operator safety. The configurable platform engine uses analytical tools based on long-term cloud data storage along with process and equipment technology algorithms to help management and production teams identify issues before problems occur and improve product quality and line efficiency.
The digital architecture of the system is shown in the figure below. The production line equipment on the left is continuously monitored by the cloud-based DS Activ-Check™ system. The real-time operating data, including KPI (Key Performance Indicators) from the production line PLC or SCADA system historian, is sent to an edge server inside the plant. The edge server collects, buffers, and encrypts the data before sending the information on a secure Port 443 through a secure firewall. The server is located behind a secure firewall to prevent unwanted access.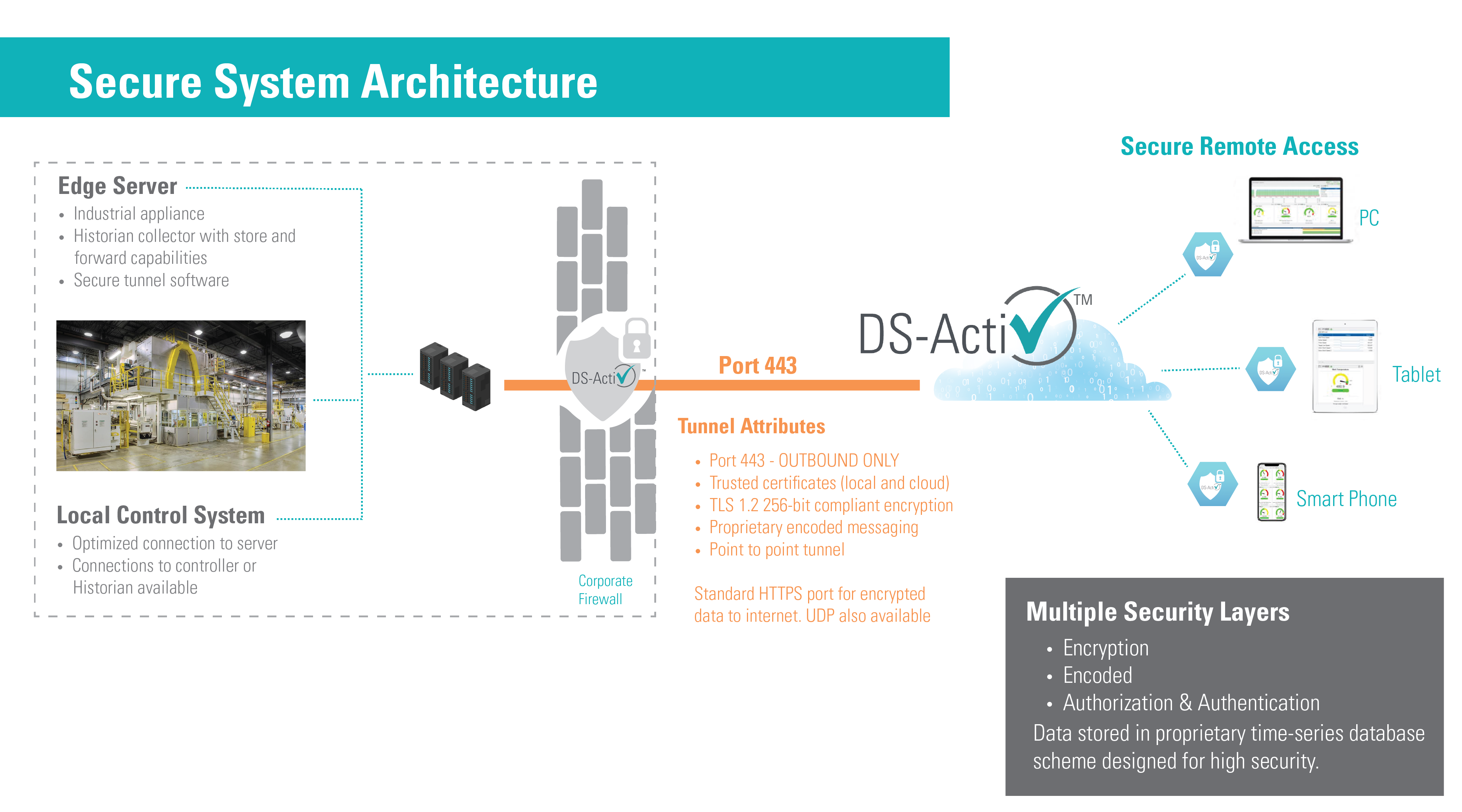 The data moving on the secure Port 443 travels over the internet and is stored on the cloud. The cloud refers to servers or computers accessed over the internet and the software and databases that run on those servers. This is where cloud computing giants such as Amazon, Netflix, Google Maps, Google Earth, and the DS Activ-Check™ system reside, among many others. The right side of the image shows how the information from the cloud-based system can be securely accessed remotely from anywhere using your smartphone, tablet, or PC with a secure internet connection.
The logical question to ask is, why use the cloud for a continuous monitoring system? What advantages does this technology offer?
Information storage and access
Data collection and storage capacity is unlimited. Your valuable production data is securely stored and can be used in the future for comparing production performance between lines and plants, optimizing production processes, and more.
Connectivity
You can securely monitor your production process from anywhere at any time. This is a force multiplier for your process, maintenance, and operations teams. First, they will be able to address issues before failure, eliminating lost production. They will be able to identify a specific issue and take corrective action quickly versus spending countless hours trying to determine a root cause. Second, they can deploy maintenance tasks with all records of completion stored for future reference. Finally, they can collaborate and troubleshoot issues in real-time to prevent costly production downtime.
The data storage capacity for a typical SCADA system is limited to 180 days. After 180 days, the data is lost. A cloud-based system ensures your data is never lost.
Scalability
Production equipment can be easily added to the system starting from one line. In addition, production lines in the plant and from other locations, both domestically and internationally, can be included. This is a critical feature for digitally transforming multiple locations.
Analytics Running in Real-Time
The cloud platform provides the capability to run software that analyzes equipment performance continuously. This feature is known as analytics. Using real-time data from your production process, software programs continually monitor the performance of your operation and provide critical information. This reduces or eliminates unwanted downtime and guides your decision-making with regard to preventative and predictive maintenance items.
Using the advantages listed above, a cloud-based system like DS Activ-Check™ performs a detailed analysis of data coming from your extrusion system. It simplifies your extrusion system's multiple and complex dependencies using built-in analytics, which is based on performance data. These features translate into informed decisions and expanded situational awareness for your team.
The next blog, we'll discuss how digital transformation provides value to your operation through improved situational awareness. Have any questions on digital architecture? Write in the comments below.
For any other questions, contact marketing.
Cheers,
The D-S Connect Blog Team